Mary Kate and Ashley's Interpretation of Black
It's already mid-autumn so there's no way that you haven't seen at least one big 'Black is the New Black' plastered over style magazines and newspapers. And you must have seen lots of photos of gorgeous black clothes draped over the beautiful models from the fashion shows. The question is, how do normal people, aka we wear so much black and not look like we're simply boring. So today, I've decided to see how two of my fav. inspirations, Mary Kate aned Ashley are wearing this trend.
The great thing about looking at the Olsens is that there's two of them, meaning that you can see two very different styles but of similar trends. Ashley's outfits are always more polished and ladylike -totally cosmo city girl style (with flip flops.) Mary Kate's outfits as we all know, are more bohemian luxe influenced, always seemingly carelessly thrown together and gives off a really relaxed vibe.
Olsens' black diary: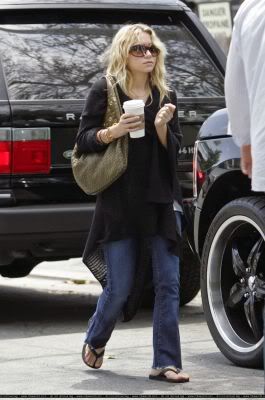 29th May: Ash decides to start wearing the 'black' trend early with this casual long, flowy coat. This look is perfect for any day because it's so easy to throw together and jeans are one thing that we all have. And notice: she's traded in her Balenciaga for a Bottega Veneta.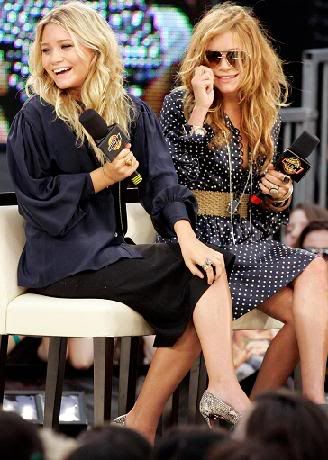 30th Aug: MKA makes appearance at Much Music in seriously stylish flocks. I LOVE their outfits here. Two things to note here: Ash's sleeves are clinched, which transforms the loose sleeves into this season's big volume look. MK not suprisingly opted for a vintage-looking creation. And see that thick belt around her waist? -another big trend this season.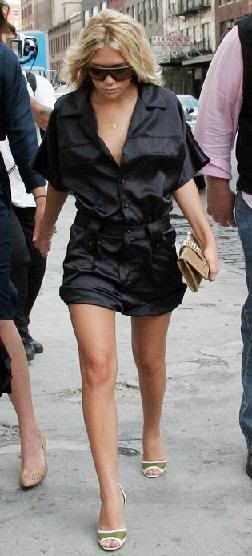 10th Sept: Ash arrrives at the Calvin Klein SS06 fashion show in New York. She's wearing a classy military-style mini-dress. Mini-dresses are great this season -wearing heels like Ash here is great, but in winter, put on some stockings and leather boots!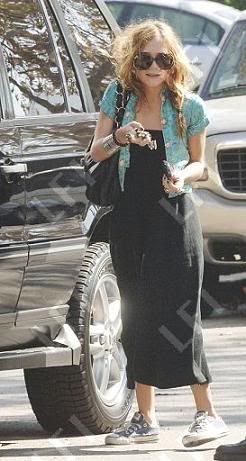 1st Oct: MK visits her friend in LA in a super casual boho outfit. All black is the thing this season, but feel free to use other clothing items such as shrugs and short jackets to add color and synergy to the outfit. And look! Even MK's traded her Balenciaga in for a Chanel!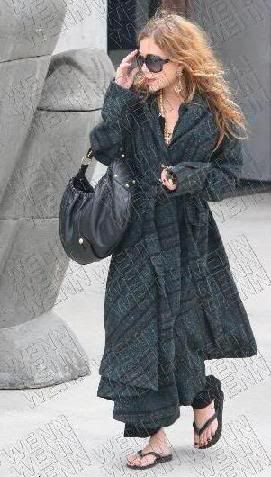 19th Oct: MK shops in LA in all black. She's so black that she looks weirdly lady-like and elegant! Remember ladies, if your coat has a belt/ sash on it, remember to tie it around your waist to make it look more defined. And how does MK avoid looking 50 years old in all black? By using her special talent, accessorising of course!
Hope everyone managed to get a few inspirations from the oh-so-stylish Mary Kate and Ashley!