FW06 Trend: Plaid on the Streets
Now we move on from the runway to the actual wearing of the plaid. This whole post may be an eye soar with its overload of plaids, but just remember to match them with simple and elegant clothing (read simple styles and plain colors) in real life.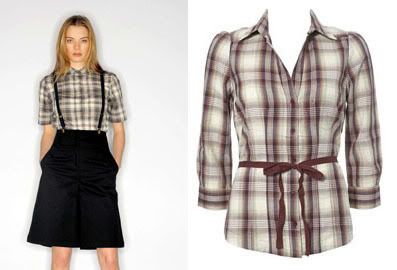 Starting with the basics, we have the plaid dress shirt. To make sure you don't look like a cowboy, this season they've added more feminine touches to them. At See by Chloe (left), they rounded the collar and at Top Shop (right), they added a girly ribbon belt.
Then there are cool short plaid jackets that'll look great for everyday wear with skinny jeans. These two are from Urban Outfitters (left) and Juicy Couture (right).
Also from Urban Outfitters we have this cute plaid trench coat and tunic shirt. And is it just me or does the model on the right look like Rory from Gilmore Girls.

Next we have this plaid blazer and pencil skirt set from Top Shop. But please, do not wear them together, you'd look like a walking table cloth. Wear them separately, the blazer with jeans and shirt and the pencil skirt with a dressy white top for the hot office look.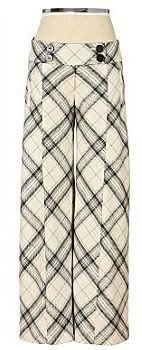 For pants, we have something bold from Anthropologie.
More from Anthropologie, we have this plaid trench, which is understated and stylish and this adorable shift dress. I recently bought sometime very similar shift dress from Zara, green with subtle black plaid lines, which I match with my footless stockings and platforms.
On the other side of the ocean, we have these more ladylike offerings from Top Shop. I can't decide which kind of coat I like most! I also rather like the simple design of the dress with the belt, it is very elegant. Unfortunately, I tried it on at the store the last time I went to London and the fit wasn't that good. But maybe it is just me?
For more fun casual dresses, I am loving these styles from Forever 21. Take a book from Amanda from Ugly Betty and wear it with dress shirts and black turtlenecks to keep you warm and stylish!