Sept launch: VOGUE China and Men's VOGUE
Ugh, I have to wake up at 7:30am from now on to do work experience again. Too early. Ugh.
Anyways, it seems like Anna Wintour and her fellow Conde Nast management team's plans for the expansion of Vogue is FINALLY happening. September this year is not only important because of the ever-so-thick Sept Fall fashion magazine issues, but also significant because of the very first issue of Vogue China and Men's VOGUE.
Fifty years from now, this will be seen as the iconic ever first cover of Vogue China. I was SO excited when I first realised Gemma Ward was going to be on this iconic cover. She really stands out here because she's the only Westerner. And the other Chinese models... some look great and others not too much. I esp love the first model on the left. Apparently one of these models is Miss China 2003 and another is a Shanghainese supermodel. All the models sport the Prada black headband look -people, take note!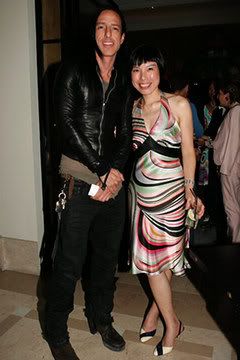 On the right is Vogue China's editor-in-chief, Angelica Cheung at the Vogue China bash hosted by British Vogue's editor-in-chief, Alexandra Shulman a few weeks ago. Can't really say I like Cheung's dress much. Doesn't her bob remind you a bit of US Vogue's Anna Wintour's bob? What a coincedence!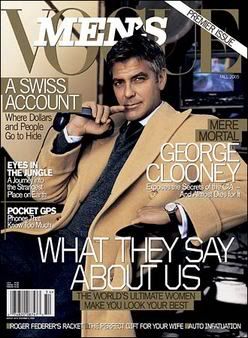 While flicking through the latest issue of US Vogue, I saw this ad. Hmm, I must say, while I would much prefer a model on the cover, I suppose they really need a celebrity to pull the readers in, especially in a country where Vogue is seen as a female thing. And I suppose George Clooney is not too bad of a pick within the celebrity circle, but I really don't like this don't-I-look-cool-and-manly-look. I really can't comment much since I don't notice men's fashion much anyways, but I really hope it's a success because most of the guys I know dress terribly. So if you're a guy, remember to buy your Men's Vogue on Sept 6th!