Sienna Miller, post Jude Law
You know how magazines always go on and on about how wonderful Sienna Miller's outfits are, and you think you're not really impressed? Well, before Sienna got engaged, her outfits were pretty inspiring, but after her engagement, her outfits just looked downright sloppy. However, has anyone noticed that ever since Jude *coughthatbastardcough* cheated on her, she has been looking more stunning than she has for ages!
After dining at celebrity dining hot spot, The Ivy. The mix of style is really stylish, and those shoes/boots really add character!
She's wearing such a cute doll-like top! The photos aren't great, but you can see that there is actually a lot of details to this casual top.

Sienna finishes dining at The Ivy with one of Jude's co-stars. Isn't this simple white dress so gorgeous? The fitting is amazing for such a casual dress, and the sandals match so well.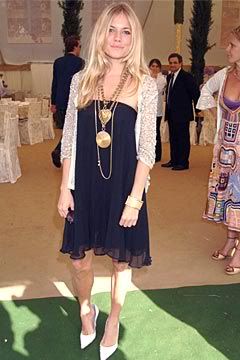 Here, Sienna is attending the Cartier International Polo Event, (and it's the same event which she supposedly flirted with Orlando Bloom!) This is one of my favourite Sienna outfits. The simple black dress, well-matched gold necklaces and a lovely cardigan, and of course, her signature golden locks. It is absolutely amazing -I can't stop gushing over it!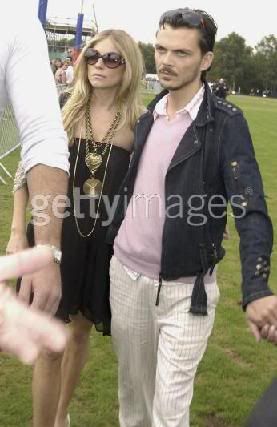 This photo is of the same event, her with Mathew Williamson, (for those who don't know, he's a recent famous British designer and Sienna's good friends.) With those sunglasses, she'e the definition of cool -what better way to say "I'm so over you!"
You go girl!