Belt Trends FW 05-06
My cousin bought this really cool buckled belt in Barneys LA, and after borrowing it on various occasions-did I mention that this was a male cousin?- I have a sudden infatuation with belts and am determined to find the perfect belt this season. After much research on the runway, here is what I've concluded:
As far as style goes, I can tell you that these multiple buckle belts seen on the Marc by Marc Jacobs and Ralph Lauren runway are all the rage. But personally, the perfect belt I had in mind is not quite as exciting, since I just found out that decent belts were actually quite costly (esp those beeeeeautiful ones from Barneys).
Hence I've decided to opt for a more classical and boring style, like these two from Anthropologie. Ok, maybe not exactly lime green, but I do so love the style of it. But you know what type I'm looking for now right?
To give perfectly boring belts a fashionable twist, take a page from the Marc by Marc jacob and Miu Miu runway. LOL, this time when I say twist, I literally mean a "twist".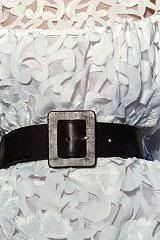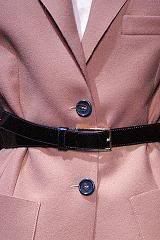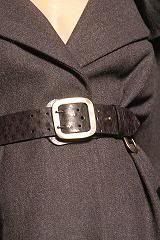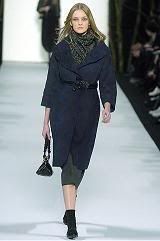 Apart from the twist and style, this season it is all about the position of the belts. In celebration of the feminine curves, it is high up and cinched at the waist. As you can see perfectly boring dark buckle belts are used to achieve this effect on the YSL, Prada, Vuitton and Marc Jacobs' runway.
Anyway, I'm off! Probably to Zara. I think I spotted cute belts there last time I stopped by.