Milan Fall / Winter 2006 Wrapup V
The week sure flew by. I can't believe there's only Paris Fashion Week left, and only two weeks of school left before Easter holidays. Anyways...

Versace
Dontella continues her sucess at the SS06's shows by showing another strong collection. This collection's clothes were not only about glitzy nor slutty. Instead, most garments were mono-colored, beautifully cut clothes, and still retaining the glamour of course. The colors revolved around navy, purple, green and black and many fabrics used were shiny (such as silk and patent leather). The collection basically consisted of coats, and lots and lots of dresses. And speaking of dresses, they are SO gorgeous, and obvious glam in an elegant way. You take one glance at the collection and you'll know FW06's Versace women is all about strength.

Fendi
I'm sure everyone knows about the photographers' stage accident before the show, which could explain why the Fendi runway photos look rather sh*tty. But anyhow, let's focus back on the clothes. Hmm, on the first glance, I really didn't like this collection, thinking it was awkward and dull. And on second glance, I still didn't like the collection. The clothes had an interesting concept behind the design but I can't totally get into the mood of the collection. There was also a seriously overwhelming selection of fur coats. While some is great luxury, this was just too much: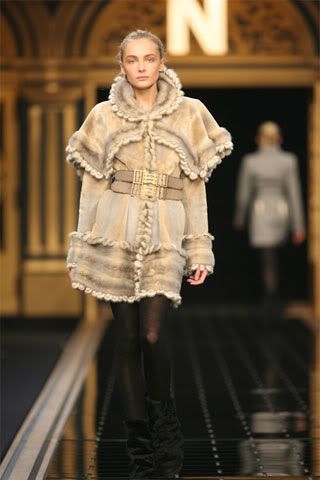 However, I did notice an interesting similarity between this collection and the Dolce & Gabbbana collection -both have the military and princess look from the respective inspired eras. Take a look of the transfomation from military to royalty at Fendi FW06:
In the Napolean themed Dolce & Gabanna FW06 show, again notice the military and princess contrast: