A New Way to Layering
A variety of corsets filled high street stores before the Dior SS06 collection even hit the Dior boutiques, (for the non-British, high street stores refer to the cheaper brands.) So by now, all fashion-foward girls should own at least one. Now before any not-so-up-to-date readers say 'omg, corsets are so slutty', let me clarify that in 2005/06 there has been a lot of casual and tasteful corsets around, even in high street shops such as H&M, Oasis and Top Shop.
So while it was stylish to wear corsets as simply corsets alone at parties and evening events, it would be so much more fun, (not to mention economical) to be able to also wear them during daytime. So how to wear corsets during daytime and not look like a well, you know. The solution is to wear them over T-shirts!
I've heard quite a few of my friends say, errr that's a weird fashion trend. And it is a bit untraditional, but seriously, it's sooo cute and chic! The UK people have already started wearing it last summer, but this trend just started spreading over the US when Miu Miu showed it on the catwalk. Check out the Feb 06 issue of Teen Vogue for ideas (see above picture of Gemma Ward.) Get more ideas from SS06 Miu Miu:
Wearing corsets, or camisoles over T-shirts can be a tricky business, here are some tips:
T-shirt should be plain colored. Simplicity is the key.
T-shirt should have a round neck. No V-necks allowed!
The camisoles on top should be tight around the chest to give your outfit a more defined shape.
Simple Tee (Top Shop)...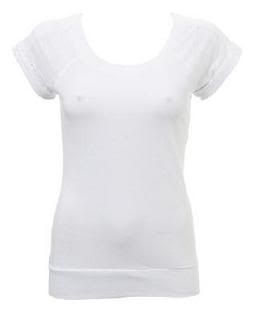 ...And possible camisoles/ corsets to go with it:
Top Shop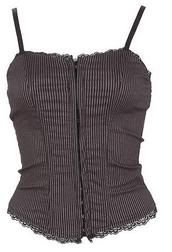 Forever 21
Marc by Marc Jacobs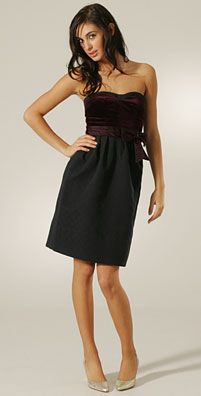 Marc by Marc Jacobs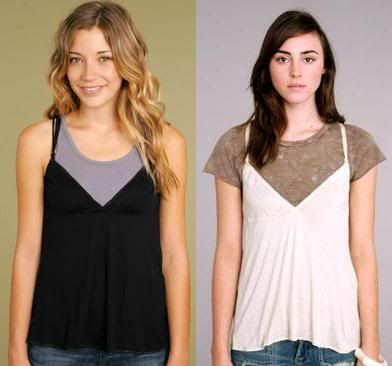 Urban Outfitters. As seen from the left girl, it is possible to wear a tank top underneath instead of a Tee.
One last little note: For night, go for more neautral combination of colors. But for daytime, go for lots of colors this spring/ summer!