Paris Fall / Winter 2006 Wrapup I
Oops, it seems like we're a bit behind with the fashion week reviews again.
Balenciaga
Wow. Once again Balenciaga stuns us all. Ok, I admit I was a bit put off by the first few 'jockey' looks. I don't like checker patterns and tweed-like materials in general, and the jockey hats are a tad bit weird. But after the first few outfits, the rest were amazing. The main colors seen were white, black, navy and the occasional splash of bright pink.
Balenciaga clothes always gives me the feeling of pristine and clean cut. Even with all the different materials and ideas put into the garment, the clothes never look messy or too complicated. I LOVE these two dress and skirt. SO gorgeous. Long legs are the key to the Balenciaga look. Go for the thick black stockings and chunky, sky-high shoes.
Skinny pants continue to be a main focus at Balenciga. These outfits are so sophisticated and perfect for the professional ladies.
I love the dress on the left -it's so simple and versatile. And on the right is how the Balenciaga shoe looks like next season. It's so tall it's actually scary.
Christian Dior
I will flat out say I did not like this collection. Maybe I'm just not one for the whole rock 'n' roll thing. Now I'm not saying there weren't any great clothes there, in fact, there were some gorgeous jackets and coats. (The photos I have chosen are the few outfits I liked in this collection.) But I just really found this collection to be very dramatic in an unelegant way. Perhaps if you're a (very rich) rock star chick yourself, then you'll love this Dior collection.
There were some crazy HUGE dresses at the end of the Dior show. Except for thisbrown dress, the others were just waaay too much for me. And is it just me, or did John Galliano make all the models look like him?
Vivienne Westwood
Usually I don't comment much on Vivienne Westwood because I'm not quite the Westwood dresser, but the FW collection actually caught my eye. Maybe it's because you don't see much streetwear-looking clothes in Paris catwalks. Anyhow, I love how Vivienne manages to make her clothes look so casual when it's obviously not that simple. There's a super cool feel to all her outfits.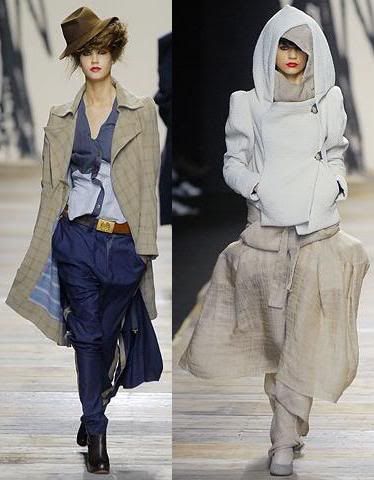 I esp LOVE the outfit on the right. I love the whole big hoodie sweatshirt plus couture-like puffy skirt. I can't decide whether it's the perfect outfit for a football game or an expensive restaurant!
Any Westwood fan would have to get this dress for their wedding!
Ann Demulemeester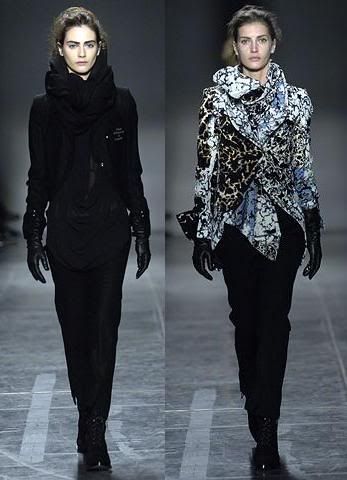 This collection is all about the straight silhouette and a bit of the gothic feel. Demulemeester clothes don't make grand statements or particularly follow trends, but there is just something so basic, yet obviously styled about the clothes. Even though most of her clothes are mono-coloured, there are actually a LOT of layers there, just take a closer look, (such as the white one below.)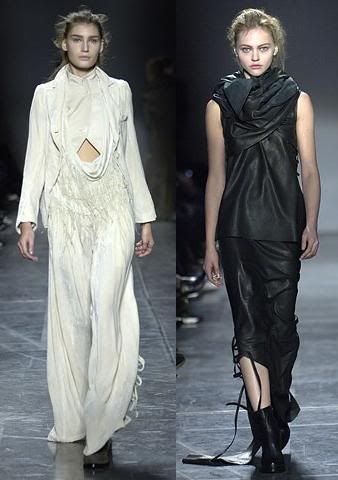 A totally irrelevant note: even though Sasha P. is still a bit of a heroin-chic version of Gemma to me, Sasha really does do the whole gothic look perfectly.