SS06 Bags Trend I: Gold Chains
One of the biggest bag trends this spring/ summer season are the chains (mainly gold). This usually means that instead of that usual leather shoulder strap or handle, it's a chain. This 'chain' trend ties in well with the 'utility' trend of clothes.

As we all know, Chanel has had that whole leather-intwined-with-chain thing for years. So why are chains suddenly the trend now? Well Marc Jacobs started the chain thing a few seasons ago, and together with Kate Moss's influence on the fashion world, chains quickly infiltrated into many designs...
This season, bags from Louis Vuitton not only had chains as the bags' handles, but chains were printed all over them.

Marc Jacobs' own line has the largest selection of such bags -and most of them are gorgeous. They really give a fabulous twist to Jacobs' typical bags. I esp love the Quilted East/West Frame Bag (the second picture.) It's sooo chic and classy.

Top Shop are now selling a range of bags that were 'inspired' by Marc Jacobs and Chanel. This dark blue clutch with the half bow is actually quite pretty, but the chain is unfortunately a bit over-chunky.

Since I can't afford the real MJs or Chanels, I bought the Top Shop white quilted clutch just last week, figuring it would be great for a night out. Usually I wouldn't recommend such an obviously 'inspired-by-top-designers' bags, but these Top Shop ones are quite well made.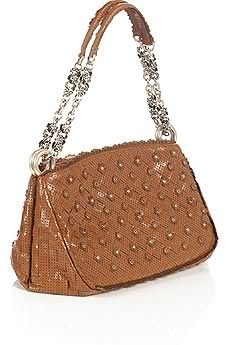 This beautiful bag is from Bottega Veneta is obviously designed for the super rich and refined women (ie. Veneta's typical customers.) The chains look so shiny and flawless it's a bit worrying to think what will happen after the bag gets used.

Anna Sui has got the ultimate girly, bohemian-style bags. They show that bags with chains can also be great daytime bags. can't decide whether I like the white leather floral bag more, or the gold leather butterfly bag more!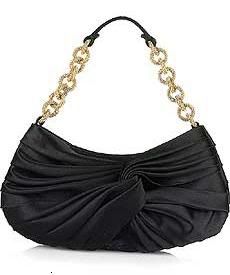 Speaking of nights out, this Anya Hindmarch Katrina evening bag is just too sophisticated to resist! So simple, yet so stylish. Caution: only carry this bag if you have a dress that is just as glamourous to compliment with.

And lastly, let's not forget Chanel. I love how this bag incorporates the classic designs of Chanel with a dose of youthful features, such as the cute bucket shape.