Dresses For Day and Night
Since most of us can't afford seperate day and night dresses, it's always nice when outfits can take you through the day and night. So I went on a search for such dresses, (and let me tell you, it certainly was harder to find all-day dresses than for day or night only dresses,) and found these lovelies: These will keep you stylish as you slip continue to enjoy summer and start experimenting with fall styles.


For something casually-sophisticated and cheerful, I like this Miss Selfridge Lollipop Ruffle dress.

This Top Shop Rose Print Dress may feel more night time than day & night, but I the bright blue colour and short length makes me think that it would be suitable for fancy lunches or dinners out.


Pretty Marc by Marc Jacobs dresses -The white halter is very summer-y, and the polka dot dress is so funky!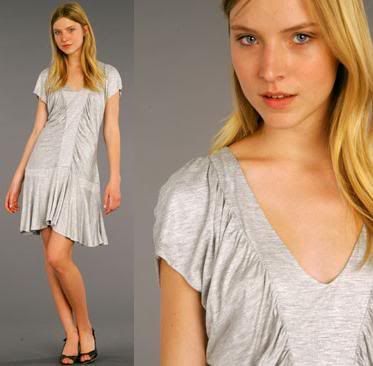 This Lux by Urban Outfitters dress is casual enough for those who don't want to be too girly.
Don't be frightened by the bright yellow colour! Shift dresses like this Top Shop one are oh-so-fabulous this season. To look sophisticated in it, wear black tights.

At first glance, this Free People dress is very daytime, but the shiny silk and pretty delicate flower patterns make it OK for night time too.

And to really start getting into the fall mood, a grey dress is the best thing to start with. This one is by As U Wish from the Nordtrom Junior Dept.