John Tucker Must Die
I usually don't like going to the cinemas, but there seems to be a lot more interesting movies this summer than the previous few. And since I had nothing much to do when I was visiting my relatives in San Francisco, I actually went to the cinema twice. After my cousin's gay friend claimed that John Tucker Must Die is better than Mean Girls, my cousin and I decided to give it a try. Warning: Spoiler below.


The story starts with the king of high school, John Tucker (Jesse Metcalfe,) secretly dating three girls from different cliques. The three girls are (from left to right in the picture below): Carrie (Arielle Kebbel), the super, high-tech, overachiever; Beth (Sohpia Bush), the animal activist slut; and Heather (Ashanti), the head cheerleader.

But trouble starts when the enemies find out by chance they were all dating John Tucker, and Kate (Brittany Snow), who is the main female character and narrator, accidently gets pulled into the mess. She suggests the three girls get even, and the girls decide to makeover Kate and use her to break John Tucker's heart.

And so the plan starts: Kate, with the help and plotting of the other girls of course, manages to get John Tucker to really like her.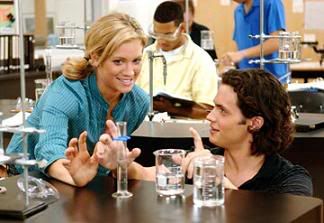 The guy that Kate actually liked is her chemistry partner -John Tucker's younger bro.

And the story ends with a loveable happy ending: the four girls become real friends!


This is seriously one of those high school clique stories. The story is cliche and not exactly high IQ material, but it's very funny and will make you laugh out loud. Brittany Snow did a good job at being the awkward Kate. I think what I liked about it was that the girls all came together for a purpose and achieved it. The jokes and funny bits were all very obvious, which I liked. My cousin however thought the dialogue wasn't as witty as Mean Girl's dialogue. So if you're in the mood for just something ditzy and funny, give this movie a try!