Beauty Trend FW06: Brown Shadows
I am sure most of you have figured this out by now if you've been haunting the make-up counters this season.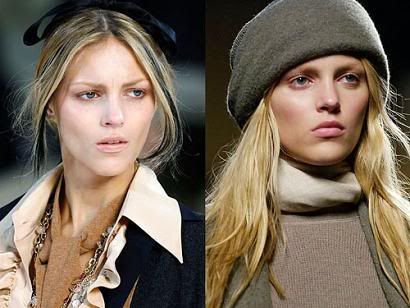 Whether it is done so naturally that one can hardly see it (but of course, we still know that it is there), like here in the Chanel and Marc Jacobs runway. .
. . .or not quite so subtly as on the Dolce & Gabanna and Luella runway, brown is THE eye shadow color of the season. As a result, all the make-up brands have been coming out with brown eye shadow palettes.
Most noticeably must've been Bobbi Brown's limited edition Chocolate eye palette containing bone, caramel toffee shimmer wash, frappe, champagne truffle shimmer wash, cacao shimmer wash, stone and chocolate. It was positively delicious. I LOVE this palette, because with so many shades of brown from matte to shimmer, it contains all the shades I am going to need this season. You can also use it wet or dry, so imagine all the possibilties! So far, I've used the lighter shades for a casual look in the daytime and the darker shades to achieve the smokey eye for night. Its truly an awesome palette!
Laura Mercier has also come out with a collection of brown eye shadows in various shades called the Evolution of Colors for the eyes (she has also made one for the lips!). I've tried this palette at the counter and while the texture IS really silky and smooth, I found that there really wasn't much color to be found. And I also dislike the idea of palettes like these where the colors might mix together. But maybe I just tried the wrong range of colors as she has three to choose from.
For those in Asia, Chanel has also come out with a brilliant limited edition eye shadow palette called Gold Rush. I haven't tried it, but I'm positive the color will go on beautifully and look shiny as all Chanel eye shadows do. Unfortuantely, I believe it has already sold out.
Another brand that has offered us a range of brown is Paul & Joe, with it's Chocaholic collection. In the collection, there is this very cool face color powder that can be used on the face for contours AND as eye shadows- great bargain! And don't you just LOVE the packaging of their products? Its soooo pretty!