New York Spring/Summer 2006 Wrap Up IV
Wow, it has been quite a week trying to do all the things I "meant" to do this summer all at once. But I've finally managed to stop and catch my breath to feast my eyes on the NY runway this week. And I know that 4 wrap ups for one week is a bit excessive of us, but we cannot not pay tribute to these last few labels to grace the runway now can we?
Michael Kors
I'm usually not a big fan of the safari, which seems to be the case here what with the neutral palette and all, but I'm loving this collection anyway. Kors has done an amazing job combining the safari with feminine grace using a balance of soft and structured materials. Here are a few prime pieces, and trust me, it was a difficult choice.
This is an excellent example of the safari and feminine grace I was talking about. The tiered swish of the skirt softens the edge of the otherwise structured safari get up.
It looks so deceptively loose and unstructured, but if you look closely at the folds of the skirt you can tell that a lot of skillful tailoring was involved to create such a casual flow.
This is actually very similar to the first outfit I showed, but I ADORE the color coordination of this outift.
I imagine thats what a safari princess would wear around her domain. The skirt is so structured, and yet the soft material just flows so gracefully around the ankle.
I just LOVE this skirt. If you look closely the hem line is cut in accordance with the flower print. How cute is that??
Ralph Lauren
Of course, the NY Fashion week cannot end without me gushing about the Ralph Lauren collection. This time around, the color palette varied a little from the stark monotonicity of the previous seasons and was distinctively nautical in a very sophisticated way.
The epitome of the sophisticated sailor, which is at the same time, oh-so-ralph-lauren.
Ah, one has got to love flarey white skirts. It instantly makes an otherwise military sailor uniform look fun and girly.
I just adore how the thick stripes contrasts with the thinner stripes without any outright clashes! It gives the whole outfit such dimension.
Aw. . I just love this flarey blue skirt.
And as usual the evening wear is just divinely elegant and sleek. I adore how the models have their hairs pulled back and sport outfit matching dangly earrings. That is just SO (for lack of a better word) elegant.
Donna Karan
I absolutely LOVED the Donna Karan collection. The elegant draping of the material, the prints, it is all just so fabulously artistic and masterfully made!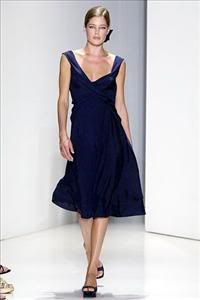 The skillfully arranged twist and flare of the skirt is just so subtley exquisite.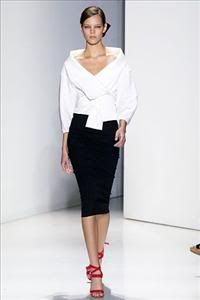 Ditto for this very cleverly done shirt, which goes perfectly with the pencil skirt look.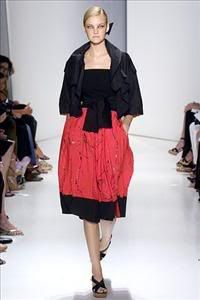 These ribbon bow belts over dresses seems to be a key feature of this show. And it works beautifully to define the female curves. And I can definitely the elements of "Pollock" that had inspired this collection in that red dress.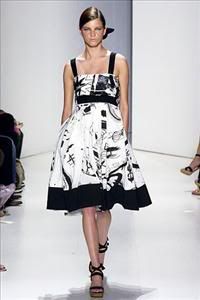 There is also a bit of an early Pollock in the prints here too.
And these very artistic necklaces are also very prominent in this show. Although I fail to see how these can be worn in real life. . I mean, the long big hoops is just not very practical.
L.A.M.B
And we end our wrap up of the NY Fashion week with LAMB, the very much anticipated runway debut of Gwen Stefani's-the only celeb-turn-designer who actually has a talent. And Style.com has got it right, it is definitely a very "wide-ranging" collection, so wide ranging in fact that I cannot pinpoint any particular direction this collection is aiming for.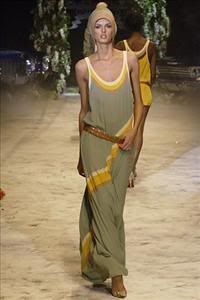 There is the rasta influenced look.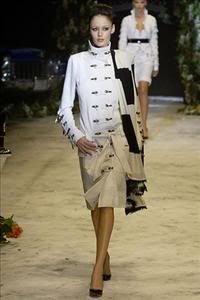 The military look.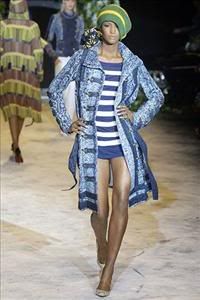 The nautical navy look.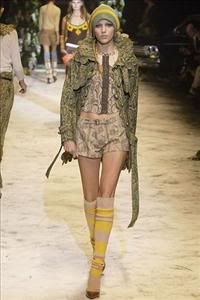 The weird completely unwearable I don't know what they're thinking look.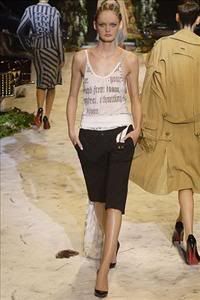 The very LAMB look we're all used to from her bags. I love this one. For one thing, I can actually see someone in the street wearing this outfit.
The sporty look (which I guess goes along with the outfit above) and wow, I WANT this tracksuit!!!!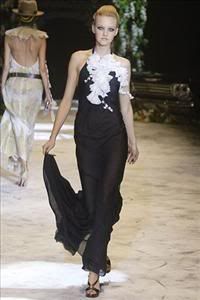 The very elegant and sophisticated look. This is pretty.
Although I guess the one uniting thing is that they're all very edgy in their own Gwen Stefani way. I must say, I am slightly disappointed though with the lack of direction of this collection-besides the last 3 outfits above that is, I LOVE those.
Well, this wraps up the New York week! Can't wait to see what London has in store for us. It is always very interesting and refreshing.