Happy Birthday Gemma!
Todays is 'it' model, Gemma Ward's 18th birthday! Seriously, she's appeared on so many magazines, ads and catwalks, and she's only 18 -sometimes it's hard to believe. The lucky girl got herself a whole issue of Australian Vogue all to herself, (see yesterday's post.) I read it yesterday, and the whole Vogue is basically a 'sneak-peek into Gemma's life' book. What more could a girl ask for her birthday?

Anyways I digress, so to celebrate my favourite model's birthday, today's post will be random things about her. Gemma is really quite a controversial model -there are fans (like me) who absolutely love her look, while there are others who think she is plain unattractive. It all really lies in whether you like that alien, baby-faced look which Gemma is so famous for.
Here are some brilliant photos that not only show Gemma as a model, but also as a teenager:
Gemma first burst into the international fashion scene when Miuccia Prada featured her in the Prada and Miu Miu S/S04 shows. The first words Ms. Prada said when she first saw Gemma: Bella!
Prada F/W04 ad. Gemma is seriously photoshopped here, but doesn't she look so much like a grown-up yet baby-faced porcelain doll here?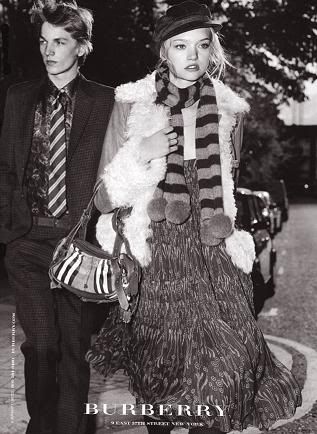 One of Gemma's most recent ads, Burberry F/W05. The main female models were her and Kate, but I guess now it only has Gemma.
Gemma is really good friends with Lily Cole and Lily Donaldson, two models who started at about the same time she did. Unlike the catfights and rivalry some may imagine the models would have, they are actually true friends and even hang out together out of work!
And suprise! Gemma reads! Here, she's reading backstage at one of the fashion shows. (The book looks like it's The Alchemist, but I'm not 100% sure.)
The innocent, alien face that made her famous.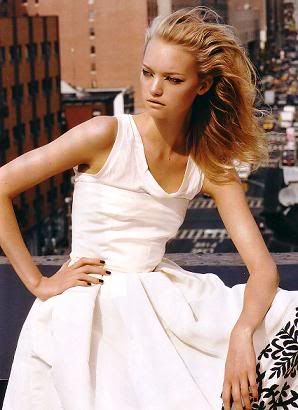 Gemma featured in the Dec.05 issue of Vogue Australia. You can actually see that she has grown up -obviously she has always been this tall, but you can see that her facial features are more mature now.
Happy Birthday Gemma!