Supermodels Turned Editors: Gemma and Kate
This December's magazines are turning out to be EXTREMELY brilliant. I got so excited when I found out that my favourite model, Gemma Ward will be guest-editing Vogue Australia. And then previews of the Australian Vogue started appearing in fan forums and I got even more hyper!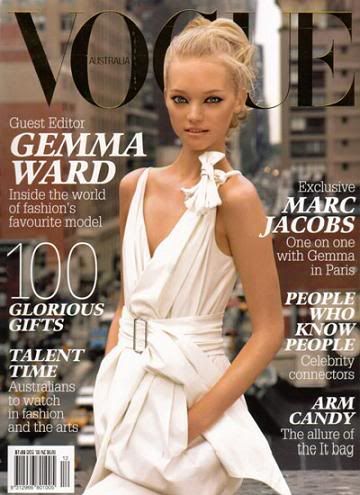 Here's a sneak peek into the Backstage Diary that Gemma kept for Vogue:


"I turn up to Versace and have to refit my dress again, they are changing around looks, and still haven't seemed to figure out the running order. By the time I am done, backstage is awash with panic. I put my head in my hands and take a moment while they glue in the 500 mandatory hair extensions.

"When the entire contents of my make-up artist's bag seems to have been dumped on my face, I get into my first look and try desperately to hear the new directions over the excess of Italian screaming. Since the running order has been changed I have no idea who I'm doing the group walk with anymore but before I can ask the show is under way. Girls are clambering over each other to get into their second looks and all I can see are hands flying in all directions, one putting more blush on me, one tugging from behind, one pulling my dress down, one pulling my leg up and shoving a shoe on my foot. Milan is killing me."

This issue of Vogue AU is available for sale starting yesterday. I can't wait to buy it!
Moving on to Kate...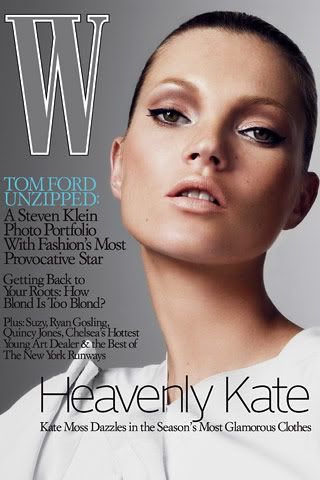 After Kate Moss was caught taking drugs about a month ago, a LOT has happened already:


Kate apologised.
Chanel, Burberry and H&M dropped Kate, while Dior and Rimmel kept her.
Kate went to rehab for a 'one month intensive treatment'.
During this time, Kate still managed to grace fashion magazine, W's Nov. cover and fashion spreads. (see above)

Just out of rehab, Kate is already making headlines with the new Dec. Vanity Fair cover and eleven page editorial inside. The photos were taken last year but were never used until now. She is wearing Chloe in the cover photo.

Rumour has it that Kate will be guest-editing the Dec. issue of French Vogue. Although I really am not so excited about this because it's not like I can read French. Actually, I didn't even know Kate knew French. Oh well, in our books, fabulous style is an international language!