SS06 Fashion Trend : Short Shorts
Usually I am not much of a fan of short shorts. They just always seem more fitted for the gym, not the streets- unless you want to look like a tramp that is. But this season, on the runway, there is a more ladylike short shorts trend that has made me completely rethink my initial dislike for short shorts on the streets!


I especially liked the preppy short shorts look found on the Luella runway. And the slightly loose, boxy short shorts from Chloe are definitely not skanky.

Neither are the structured white short shorts from Prada and Paul Smith. Tuck in the shirt or wear a thin ribbon belt to emphasize the waist and create more shape.

Details are also a great way to take away from hot pants effect from short shorts. I especially LOVE this one from Versace (left) She just looks fabulously cool. And the military (or is it sailor-ish) details on the Sass & Bide runway also addds structure.
So the key to wearing short shorts in a ladylike manner is to balance it out with tops with more coverage, like long sleeves, jackets and even layers. Tanned legs are also a extra bonus, cause they make your legs look more elongated and thin. It almost makes me wish I was more tanned- and I like myself fair!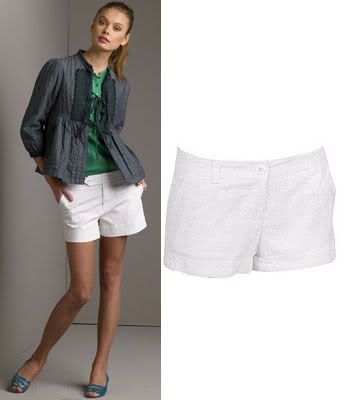 For ladylike choices on the streets, try these structured boxy short shorts from Marc by Marc Jacobs, Forever 21. . .
. . Theory and Gap.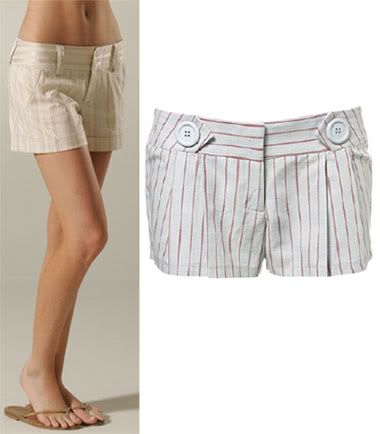 I also adore these structured striped short shorts from Alicia + Olivia and Top Shop. It just makes them that much more interesting.