Rain Shoes
The other day when it was absolutely POURING, my mom lent me her "rain shoes" to work. And they were marvellous! It was good in the rain and it looked incredible. Here are her criterias:

Made in a waterproof material- preferably in black pantent. My mom is CRAZY about it. She even made me buy school shoes in that material when I was a kid when they were so NOT the thing.

They should be in a classic style, for the obvious reason that it should last you through the test of time.

It should also have just a bit of height so your feet don't get drenched. (Thats why I prefer these rain shoes over flips flops, because getting dirty water from the pavement all over ones feet is just not fun)
Lastly, they should be relatively cheap. After all, they are for the rain.
Now I am very inspired to get my own pair of "rain shoes," good thing patent is all over the place.
These are not exactly the classic style or anything but the platforms look GORGEOUS. And I love the color. These two are from Nine West and Marc by MJ (I know, not exactly cheap..).
Then there are these stylish wedges. With these sturdy wedge heels from Nine West and Urban Outfitters, you won't even have to worry about slipping!

I LOVE these chunky black heels from Marc by MJ and Naturalizer. They look fabulous AND they are comfortable to walk in.

Then there are the sexy classic pointy black heels. These two are from Aldo and Nine West.

For something a little bit lower, there are these cute black patent kitten heels from Moschino Cheap n Chic and Steve Madden.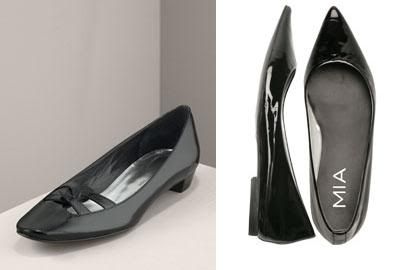 Going even lower, we have these black patent flats from Sigerson Morrison and Urban Outfitters, and since your whole feet is covered in this case criteria #4 is still satisfied!
Stay stylish in the rain everyone!