Slider Phones
Having had the same Nokia 6100 for 3 years, I've been on the lookout for a new phone for a while.



Over the years, all my phones have looked remarkably alike, the Nokia 6100, the Nokia 8250 and this other Nokia one so old that I don't even remember the model of. But it looks like the third one shown- except more squarish. They're all basically just upgraded versions of each other. So this time, I was determined to look for something different.



Hence I turned my attention to sliders, because they just look so sleek and cool. Plus, sliding is just fun! Naturally I was drawn to the ever stylish LG Chocolate and the Samsung E900, with their super sleek form and cool sensor buttons.
But alas, my strong sense of brand loyalty to Nokia (in case you haven't notice) wouldn't let me buy anything else but Nokia. I mean, what if those flimsy things from Samsung and LG breaks on me after a year? My Nokias have never broken on me before- while the Samsung flip one T Mobile gave me when I opened my mobile phone is already dying after one year! (Incidently does anyone know whether they're supposed to give me a new phone when I resign my contract each year?)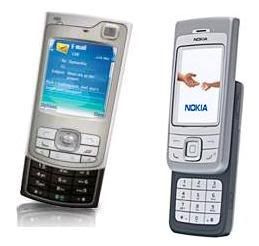 Anyway, deciding to get a 3G just in case I should ever find myself in Japan/Korea or that T Mobile suddenly decides to gift me with the free use of the internet and video conversations at the price of a phone call, I was basically left with two choices: the new N80 or the 6250 (or whatever else you call it in your country). While the N80 is the newest, whatever extra function they added has made it thick and bulky- not pretty. And who needs something mega expensive and not pretty? So in the end (after all this thought process) I finally settled on 6250 because of its function and sleek appearance (although I would prefer it even slimmer).