Labor Day Weekend
Now that it is finally Labor Day weekend, I guess it is time to officially bid SS06 goodbye. . . . and embrace FW07! And well, school is also in the equation, but just think of all the absolutely GORGEOUS things that designers have waiting for us this season. Personally FW is my favourite season fashion wise, because there is so much more pieces and room for beautiful surprises. Here is a little preview:
Funky chunky cardigans and lots of layering from Free People. I just LOVE how they perfectly matched the green checks with the floral checks here.
One of my favourite things about the FW season- gorgeous gorgeous coats! I simply LOVE this one from Zara. Come to think of it, I love their whole FW07 catalog.
More beautiful coats from Ben Sherman and Lux. The white Ben Sherman one reminds me ever so slightly of that amazing white outfit Andy had on in Devil Wears Prada that everyone remembers and the Lux one is just very very pretty.


More bags perfect for school. The Prada one is just the right size and the style is subtle and elegant. This limited edition huge metallic bag from Marc Jacobs is quite the bargain at only $44. And since its plastic coated, it can survive the rain, snow and wear of school days.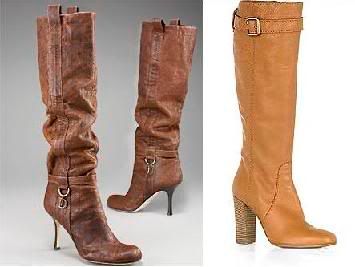 And to complete your outfit, of course there are the sexy boots from Dior and Chloe. Hope this (and our new fabulous layout) helps to put you into the FW07 mood.

But while you are at that, don't forget to enjoy the Labor Weekend sales and tell us about your amazing finds so we can be jealous from here across the Atlantic!