FW06 Fashion Trend: Long Sweaters
Waking up for school itself is already tiring enough. So to make my mornings more effortless, I've recently been really into wearing grey jeans and a long, thin black V-neck sweater with a grey camisole underneath. Also, thin long sweaters are great for weather like now, ie. when it's not too hot nor cold. So I've decided to look into more long sweaters:
I'm really liking this kind of black sweater. This Vince one isn't as long as the one I have, but it looks simple and easy to wear -just what I need in everyday life.
For those who like the preppy look and want to wear the long sweater look, thick striped sweaters are the way to go. These two are by Lux from Urban Outfitters.
I like how this Alicia + Olivia sweater looks like an artist's colour palette -only in this season's trendiest neutral colours of course.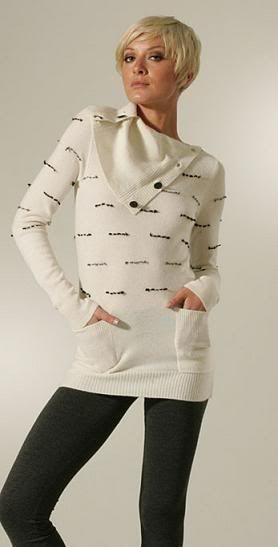 Most of the sweaters I've chosen are quite minimalistic. For those of you who want something slightly more interesting and more street-casual, this L.A.M.B. cashemere pullover is a fantastic choice.


Short sleeves, chunky sweaters are part of this season's look. PersonallyI think they're hard to pull off and not entirely practical, but if you like this one, it's by Larok.

And if you want a more structured look, then accessorize with a belt, or even get a sweater that has a built-in belt, like this Sienna sweater by French Connection.
These two Top Shop sweaters are SO great -totally practical and I like the cuffed sleeve details. Available in two of this season's hottest colours: grey and dark blue.
Vince has a LOT of choices this season, so if you're looking into buying a sweater, check Vince out. These two cable knits look so comfortable. And if you look carefully, they have bell-sleeves, which is a feature commonly seen in this season's sweaters.
Most of these sweaters can be found on shopbop.com.
Just a few tips:
- PLEASE wear them with jeans skinny or straight-leg jeans. Do NOT wear them with only leggings -save them for sweater dresses.
- The sweater should end at about the widest part of your hips as seen in the picture directly above. Any longer would just make you look short.