The Trump Wedding Dress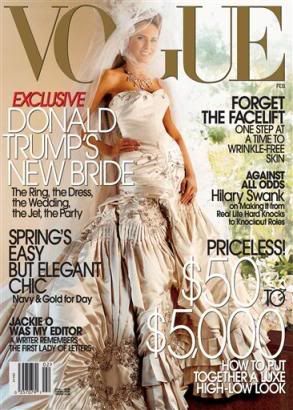 This gorgeous wedding dress will be worn by Trump's new bride, Melania Knauss, in their wedding this Saturday. Melenia Knauss chose this dress in the Christian Dior haute couture show in Paris, with the help of Vogue editors Sally Singer and Andre Leon Talley. This voluminous strapless gown took 550 hours of labor just to do the embroidery. The details of the shopping of this dress will be featured in the Feb. issue of Vogue. Melania will also be wearing a Vera Wang dress during the wedding dinner.

Sigh... if only all us girls had Vogue editors to help us choose bridal dresses and can actually afford such expensive dresses, there will definately be a higher marrage rate.