Harrods Girl Interns: Preparation Shopping
Yes! My exams have finally finished yesterday, and today is going to be my first day interning. As you may have noticed, we usually post in the mornings, so obviously I haven't officially started interning yet. But I am going to talk about a very important topic which I'm sure many of you have also pondered over: how to dress for the office. I'm going to start with how I prepared for my internship, then show you more stuff later on.
Obviously, I am not an expert at office wear. I owned ZERO dress shirts before I went to an interview for this internship. Well, now I own one, which I bought from the wonderfully not-too-expensive Zara. Right, back to the point, using the excuse "I need something to wear to work," I went shopping with my godmother last last Friday, and bought my very first pair of brand-named shoes.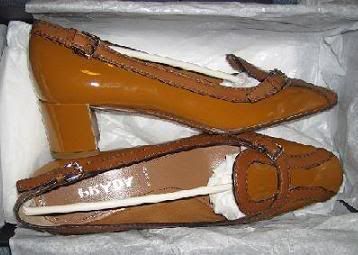 Yes! They're PRADAs! My very first pair. I wasn't actually planning to buy a pair when I went into Prada, but my godmother performed her fairy godmother duty and encouraged and persuaded me to buy them. And really, who am I to say no to Prada? Well, apart from my parents, which btw, I have yet to come up with a plausible explanation of buying the shoes. Maybe I could explain to them that these shoes are of the perfect height, perfect fit, great design and color...... Or maybe, I can tell them it is their fault. My mum always said that I MUST own Ferragamos when I start working, (although she probably meant when I have a REAL job,) and my dad has always encouraged me to wear Tods, (def not for my age yet.)
The shopping spree with my godmother continued. After we visited a few other boutiques on Sloane Street, we arrived at Harvey Nichols. I ooohed and aaahed over a few items (which I am waiting for to go on sale,) then I decided I needed high quality and professional looking hair ties, as inspired by Rory in Gilmore Girls. (Rory interned for a newspaper. Look in episode 520, her first day of internship to see her hair tie.)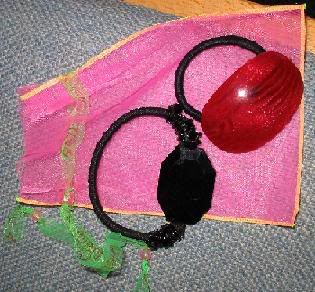 These hair ties are by Cherry Chau, a famous hair accessories deigner and brand. My godmother was nice enough to even pay for the more expensive one (thank goodness). One of the reasons why they are so expensive is that for example, the black one, those little crystals are supposingly Swarovski crystals. Cherry Chau hair accessories are sold across the globe in specialty stores and boutiques in Paris (France: Galeries Lafayette, Samaritaine), London (UK : Selfridges, Harvey Nichols -6 outlets) and in the US (like Henri Bendel, Bergdorf Goodman, Marshall Field's and Saks).
Thank goodness my parents DON'T see my debit card bills.