Harrods Girl shops Tokyo Day I: Shibuya
Hey people, I'm back from Tokyo! I only went for three days, but rest assured I had enough time to shop around, (and look like a sad tourist by taking too many photos.) Tokyo trip this time... way too hot! It was 36 degrees (Celcius) -thank goodness for shopping malls!
So my first stop with my sister was Shibuya. That's where a lot of young Japanese shop for casual and party clothes.
The first store that we went to was Indio. Everything was half price, not to mention that I got a free shell necklace after spending more than 3000yen! Everything was definitely worth it!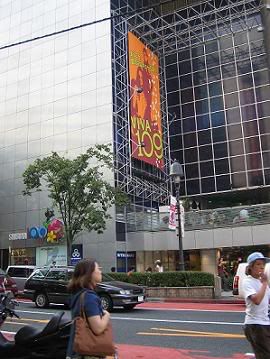 After reading a whole teenage magazine featuring clothes from "Shibuya 109", my sister and I couldn't wait to explore this mall.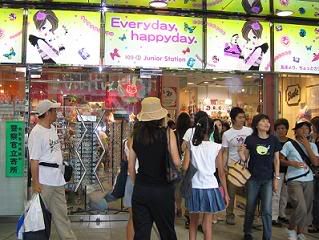 We were not disappointed -it was pretty packed that day since it was a Saturday, but we still managed to buy loads of cool clothes. The highlight of 109 was definitely admiring the amazing hairstyles the girls there had, esp the hair of the salesgirls. Their hair were all dyed and very creatively styled -they definitely know how to look good without a professional hairdresser!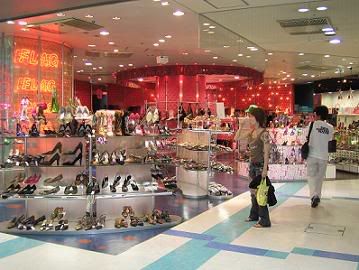 A shoe store in 109. It had such a great selection of inexpensive shoes that were totally fashionable and on sale.
I bought a pair of super shiny gold low heels there, (which looked exactly like a Chloe pair from the SS season and a Dolce & Gabbanna pair from the FW season.) At the risk of sounding like Paris: Loves it!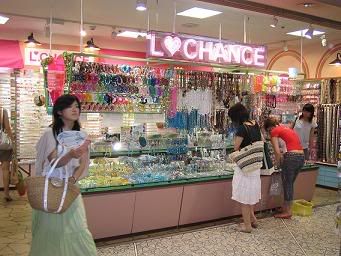 Hair accessories store in 109 Junior Station. The way the Japanese display the hair accessories and jewelery is so much nicer than most stores. Claires should take notes.
A random photo of the hair accessories. Isn't it just so pretty and colorful? I absolutely love the huge selection of goods Japanese accessory stores always has -gives us more ideas and oppurtunities to make ourselves pretty!
So if you ever visit Tokyo, Shibuya is a must stop for all fashionistas!