Christmas Parties Preparation I
Oooh it's the last day of November -I can feel all those Christmas dinners and parties coming up. So first up, it's all those office and after work parties. You get off work at six and Christmas dinner is only one hour after work, so the question is how do you look festive and not stuffy? The answer is to wear tops that are dressy in a classy way. Here are some fantastic tops:


I love this Mathew Williamson sequined silk chiffon camisole top. Admittingly, it is a bit too dressy for work, but like in the photo, wear a cardigan or blazer on top to look smart. Besides, everyone in the office is going to be in such a festive and happy mood that you'll totally blend in!
This Mathew Williamson silk bead embellished top is another brilliant choice for a nice Christmas dinner. I love how it's so fancy in a flowy and playful way. Absolutely divine.
This Plenty silk overlay camisole definitely looks suitable for both office and dinner occasions. The velvet tie creates a lovely silhouette.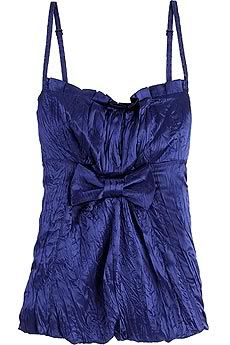 If you prefer plainer tops, this Marc by Marc Jacobs crinkled satin top will make you look sharp and shine out in this posh blue.
For a more unique look, go for something special like this willow print kimono top by Top Shop. Top Shop always makes such excellent high street, fashionable tops. The best thing about this top? You won't freeze!