Free People
Two years ago, I bought a pretty pink sleeveless top by Free People. At that time, Free People was still a new brand and actually, I didn't even know it was a brand. As I started to buy more clothes from Free People, I got curious and tried to find its website, but I couldn't since it didn't exist back then. About a year later (last year,) I started to notice that my favourite characters on TV were wearing clothes by Free People, and sometimes even the same clothes! It's just so exciting when that happens.

Anyways, here are some screencaps of the TV characters I adore wearing Free People:
Rory (Gilmore Girls) shows how down-to-earth students wear simple clothes but still look stylish. Tops like these are usually available at Urban Outfitters.

Summer (The OC) looks femininely boho wearing this Free People dress, (although it seems a bit too dressy for school.)

Marissa (The OC) looking effortlessly stylish as usual. The cardigan she's wearing is made of two materials and prints. Free People is fantastic at mix-matching colours and prints in a quirky yet still wearable way.
The good news is that Free People is actually affordable and it has a website now so you can get ideas of how to match outifts creatively.
Free People makes brilliant knitwear and sweaters. A lot of them are crafty and comfortable to wear. I LOVE this cardigan. The design (the flowers) and materials (pearls etc.) are so pretty and unique-looking. It's versatile in that you can wear it for a dress-proper occasion, and you can also wear it for casual, everyday wear. Fabulous huh?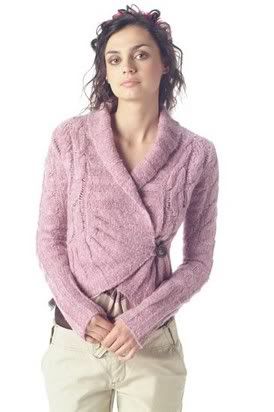 Eveyone should own sweaters like this, (not necessarily in pink of course.) They're nice and comfy. I can totally picture someone wearing that when just hanging out with her friends at someone's house or getting cozy with a book at a coffee shop.
Free People clothing is sold at Urban Outfitters and department stores like selected Macys and Bloomingdales.