The Kate Moss SS06 Update
It seems like I blog about Kate Moss almost every month, but it's hard not to. Following her one month drug scandal last year, she's been working harder than anyone remembers and now she's everywhere -and I mean this literally.

On news stands now is Kate on the cover of the March issue of British Vogue. However, this doesn't necessarily mean there are editorials of her inside, (British Vogue has been known to put her on the cover but not in the editorials.) This British Vogue has four new Kate Moss ads in: Longchamp (only Kate can make Longchamps look somewhat fashionable,) Rimmel (the usual,) Roberto Cavalli and Stella McCartney.
In terms of photography and airbrushing, this ad is excellent. But in general, I just really don't like it. It's definitely not Moss. Maybe I just don't really feel much for the brand.
I love this Stella McCartney ad. It's artistic and tasteful. You can really feel the Stella vibe from this photos. And it's so cool how the new photos are basically of Kate looking downwards -put into a horizontal way.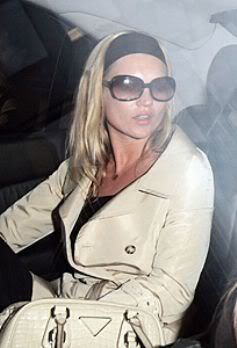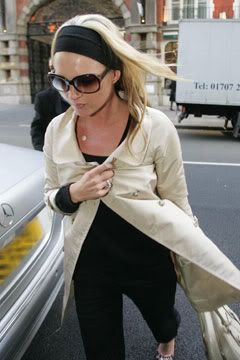 On the more paparazzi-ish aspect of Kate news, it's amazing how she can even look stylish going to the police station to get questioned. Picture Kate getting out of her chauffered Mercedes, wearing a silk faille trenchcoat (US$1,595) and crocodile bag (US$6,300), from the Prada resort and spring 2006 collections, respectively. Vogue also guesses that those sunglasses are by Paul Smith. Sigh, if only we can all look like that.
Look out for Kate in the March issue of W: