Haute Couture FW06 I
It is finally the season of the beautiful, mega expensive Haute Coutures again!
Chanel
Karl never fails to amaze me with the many ways he reinterpret's Coco's original designs while still keeping it very much Chanel. This time around he went for being modern, by encompassing modern styles and techniques with Chanel's intricate classic designs.
He started off with these black and white, very straight and structured creations- very neat and cute.

I love the intricate details given to Haute Coutures. I esp adore the black dress on the right, with the gold leaf details. It makes it look so delicate.
I think these two tweeds looks may actually BE warm enough to actually be worn in Fall/Winter 06/07!! Its thick without looking bulky. And btw, the things that look like scrunched up tights on their legs (as I'd originally thought) are not tights, but very long boots in materials that look like stockings. Don't know what Karl was thinking there.
Ah, the modern technique I was talking about that Coco didn't have back in her time. Love the grey dress, its looks so adorable! The red one is very dramatic and reminds me of John Galliano's last vampire/french revolution collection for Dior.

The evening gowns were of course absolutely beautiful. And while the white wedding dress is not something I would choose for myself, it IS very cute, modern and young.

Valentino
The other haute couture classic I look out for is Valentino. You can always trust them to produce the most elegant and gorgeous clothes.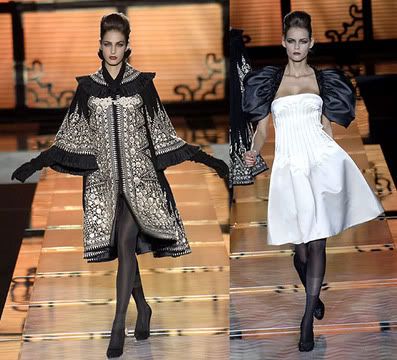 Influenced by the Russians, this season Valentino started off with a richly embroidered black coat that screams Russian. Then there was this black and white dress- I love the sleeves.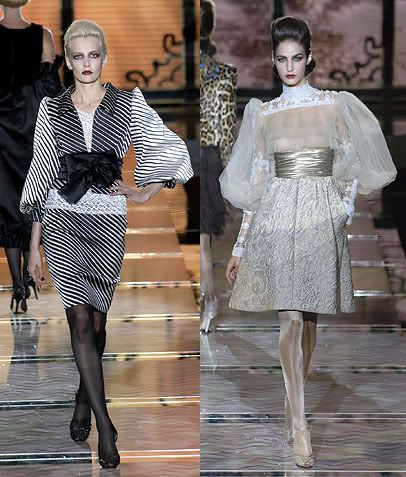 The poofy sleeves were very common in this collection, having been encompassed into chic suits and set. I love the gold outfit, it reminds me of a more elegant and fitted version of recent Chloe creations.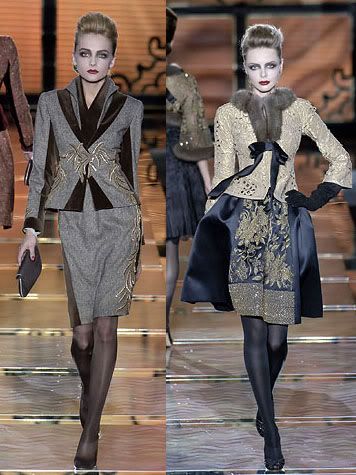 Of course, the classic elegantly fitted looks were still there with gold trims and details added on to give it a more russian flare.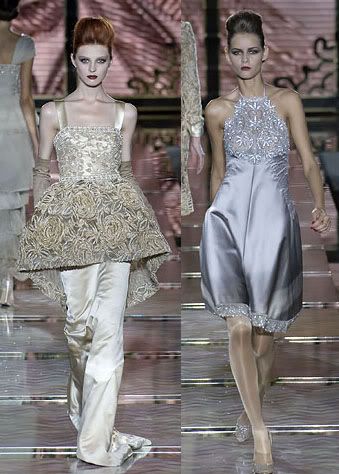 Sigh, I adore these slinky silver and gold dresses with leaf details. It so elegant and classy.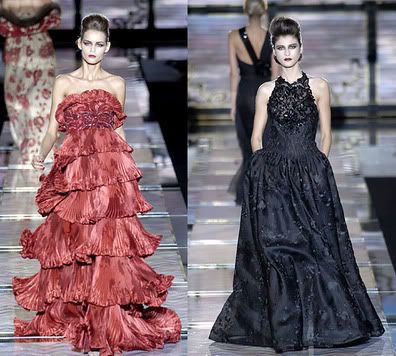 Naturally the evening dresses were stunning. Sigh . . . . I got to work harder!