Kate Moss' FW06 Ads
Kate Moss's appeal never ceases to amaze me. She is one of the older models, but she's definitely the winner this season. I loved some ads, but wasn't quite impressed with the rest......
Long Champ -Kate continues to be Long Champ's model this season. She looks really pretty in this campaign. This definitely beats the Long Champ SS06 campaign.


David Yurman -Kate looks gorgeous in these images. But then again, David Yurman ads always have amazing, sharp b&w images. Love this ad!

CK Jeans -Kate got famous back in the 90s because of controversial CK ads, and now she's back. She looks very cool of course, but I just think at Kate's age now, she would look cooler and classier if she had a top on, something like a denim jacket.

Belstaff -Belstaff is another brand that continues to use Kate this season. She looks so cool in the leather jacket, esp since she's got such a rock chick image.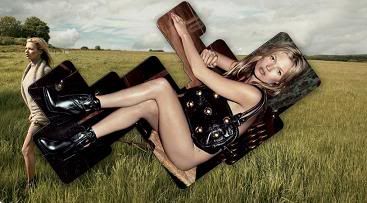 Stella McCartney -The nature feel of this ad is so different from the other ads. Two words sum up this ad: effortlessly cool.


Versace -All the models look super glamorous in the Versace campaign. From the Versace ads I've seen so far, Kate seems to be at the centre of most of the images.


Louis Vuitton -Vuitton's campaign is another one of those mulit-models ad. My feelings for this ad is so and so.


Bvlgari fragrance -There's something about this image that bugs me. Maybe it's her hairstyle or makeup, but I'm just not a fan of this ad.


Burberry -The Burberry campaign is my absolute favourite out of Kate's many campaigns this season. I just think she suits Burberry so well -she combines the cool and classic look in one. Out of the Burberry images, I adore this one the most. She looks sooo girly and stylishly cool.

Christian Dior -Dior's campaign is by far, the most unflattering-looking ads of Kate. Seriously, they make her look so old and just weird.


Agent Provocateur -The newest of Kate's campaigns. The founders of Agent Provocateur are Kate's friends, and Kate claims that she only wears lingerie by AP. There's even a video for this campaign on the Agent Provocateur website.
Which of Kate's ads do you love and hate the most?