Hermes Spring/Summer 2005: As The River Flows
Hermes Spring/Summer 2005 ads are GORGEOUS. I'm sure most of you being the fashionable crowd you are, would have seen the ads by now, but if you haven't, you MUST go see them on actual glossy paper. This season, Hermes chose Gemma Ward (my fav model) as its campaign model. While I am very happy to see Gemma in the Hermes campaign, looking gorgeous and all, it seems a bit unsuitable for someone that young to be advertising to an above forty years old group of clients. Nevertheless, I LOVE the ads.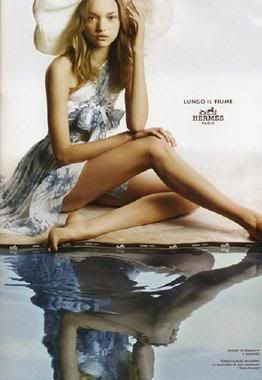 The dress in this ad seems to be Herme's main feauture clothing item. The blue Greek prints on the dress are just so pretty. And the material of this dress looks so soft and flowy, that is completely matches with the campaign slogan 'As the River Flows.'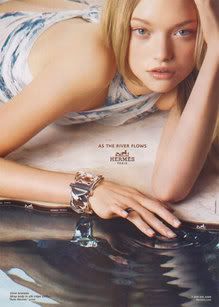 The main focus of this ad is the silver braclet. It is so typically Hermes - classical and beautiful.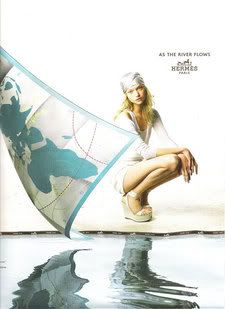 This is another one of those classical Hermes ad. It seems like every season, they have an ad where the model is just staring at the readers, with the Hermes handkerchief being mysteriously blown away by the wind. Oh, do make an effort to notice the print on the handkerchief - it sums up the trends this season: blue and global. (To those not so observant, the print on the handkerchief is a map.)