Paris Autumn/Winter 2005 Wrapup IV
We know that 4 wrap-ups for one week is a bit excessive, but we feel that Paris Fashion week would not be complete without featuring the houses of Louis Vuitton, YSL and Valentino. In fact, that would be a sacrilege to fashion! So let us pay our respects to these great houses. . .

Louis Vuitton
The show itself was stolen by the appearance of Uma Thurman (who is featured in their new Manhattan bag ad) looking radiant in a white frilly coat.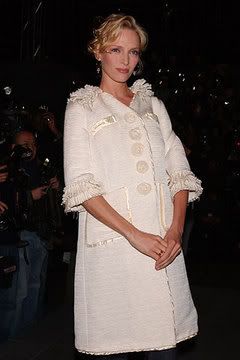 Back on the runway was the usual flair of sleek, feminine outfits one usually associates LV clothes with. Black is obviously the main color theme. Gorgeous but not that fascinating. But then again, clothing is not their forte.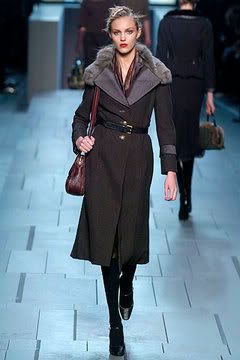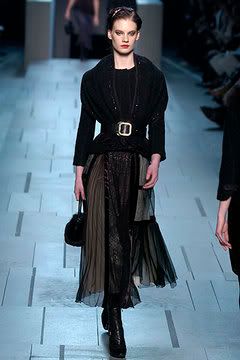 Valentino
Now Valentino clearly knows what they're doing. Following their absolutely gorgeous Haute Couture collection, they have come up with yet again another gorgeous- this time wearable and chic- collection.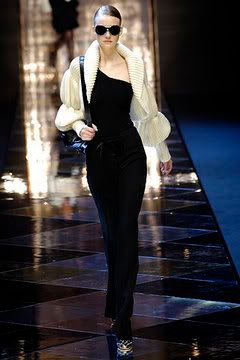 A very simple clean yet chic and fashionable look (I LOVE the white cardigan) perfect for a day out on the streets.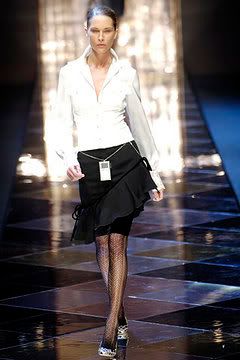 The modern office girl look. Modern in that it also encompasses the high tech fashionistas in us with that ipod hanging oh-so-fashionably on the waist.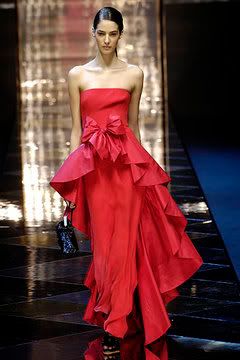 And of course, the signature Valentino elegant, stylish gown.

Yves Saint Laurent
Stefano Pilati's second collection since taking over YSL from Tom Ford was yet again another disappointment. While he clearly does has an abundance of creativity and innovation with his poofy tulip skirts and other creations, the wearability of it is lacking. If even these stick thin models cannot manage to look flattering in them, what chances do us, the general population, have?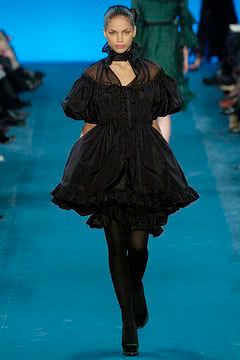 Junya Watanabe
In terms of creativity and innovation however, I am personally more impressed and attuned to the creations of Junya Watanabe. At first glance they are absolutely refreshing and on closer examination, very well cut and styled. One would actually look GOOD in these edgy refreshing creations! I especially love the leg warmer and flats all the models are sporting in the show.