Milan Autumn/Winter 2005 Wrapup II
Wow, after practically fashion trotting all these weeks from NY to London, we have FINALLY landed in Milan!! And from the looks of it black is defintely back. And so is the ever so elegant sleek, chic lady!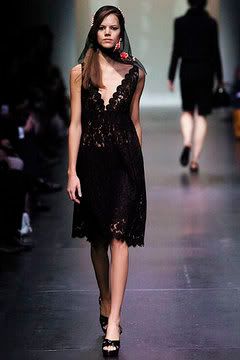 Lets start off with
Miu Miu
, and this lovely black crocheted dress. How much more ladylike can one get with that head scarf? The message is clear. However, I must say, I am not too impressed with Miu Miu's offerings this season. Perhaps it is just because it is being compared to these wonderful and boooootiful creations, that follows. . . .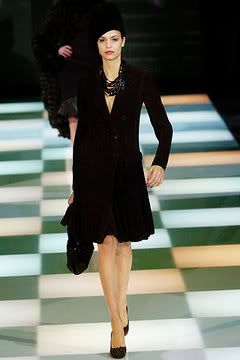 Following their success this spring,
Gucci
has continued their streak and came out with this gorgeous collection of mostly black and sleek items. The lady inside is further emphasized by those very chic hats that all the models wore, which just goes to show how versatile this look is!-From this sleek black long jacket. . .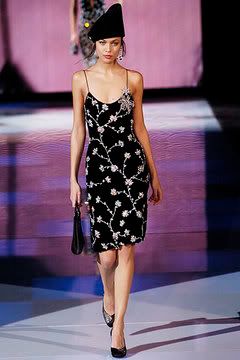 To this gorgeous floral black cocktail dress!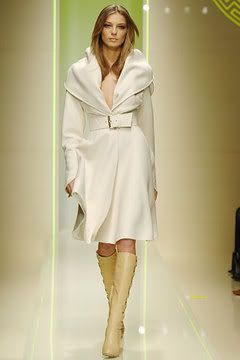 And one must NOT forget VERSACE this season (and I do this in bold AND caps because it is truly a wonderful show!). Words cannot descirbe my amazement and awe of Versace's transformation to the simple, classical, chic, sleek, wearable and beautful this season. Whenever Versace is mentioned, gold, over the top, patterned, flashy and unwearble comes to mind. But NOW I have been totally reformed (as u can see I am so in awe my sentences doesn't even flow!). Don't u just LOVE this long cinched white jacket?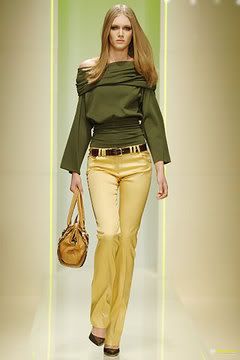 And this simple chic outfit. . . I can actually see someone wearing this in the streets!!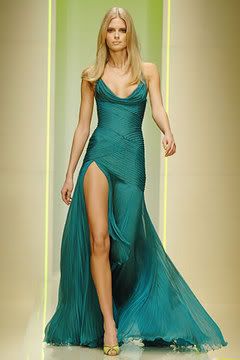 I know that this is not exactly wearable all the time, but I cannot resist and feature this gorgeous blue dress. Instead of being revealing and flashy, it is elegant and classy. . like a greek godess. . .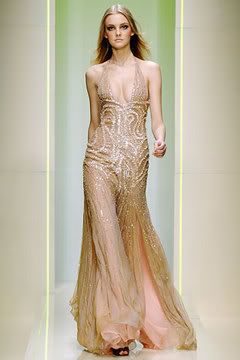 And this irrisistable gold dress... definately Oscar-worthy!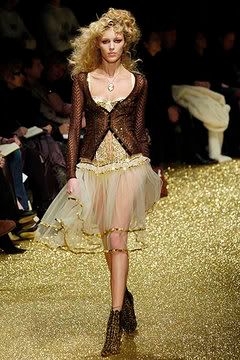 I have always loved D&G even though I'm not a very adventurous dresser. It inspires me to try little things out and be fun and wild from time to time. And as usual, it has not disappointed. Their collection this season calls out to us to be lady-like with a twist, by matching to-die-for gold feminine dresses with wild printed boots!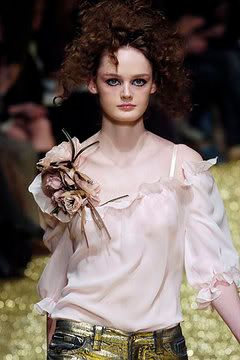 Wear huge flowered peasent tops (for a more boho feel) tucked in metallic gold pants! Sigh. . . u gotta love Milan!