Milan Autumn/Winter 2005 Wrapup I
Fashion shows in Milan this week have so far been suprise after suprise for most people. Many designers have changed their themes and style from the spring/summer 2005 season more drastically than usually. Some suprises have been criticised by the critics and media, but others were refreshing and welcomed.
If you look through the fashion show photos, you will notice that black makes a huge comeback, and volume reigns, as seen in the NY and London fashion shows. Up to Tuesday, my favourite collections are (oh suprise suprise,) Prada and Burberry Prorsum.
Prada
Prada has been heavily feautured in the media ever since its show on Tues, as Miuccia seems to have completely changed the tune and mood of her collection from the spring season. Instead of the funky and colorful designs as seen in the past three seasons, Prada has made a return to its signiture style - long-lasting elegance and grace. To make a point, the Prada show started with a series of black outfits, which reigned throughout the whole show. The only other significant colors seen were beige/goldish color, and red. Here are some of my facourite outfits: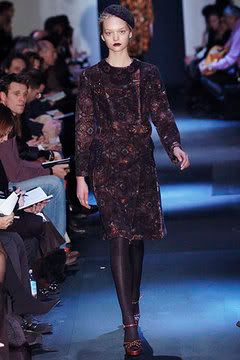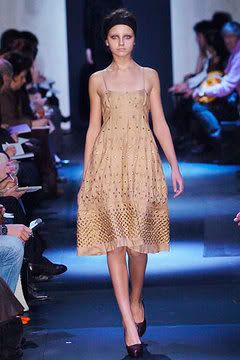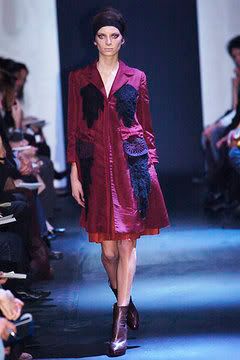 I'm not so sure about those err, thingies on the outfit yet. Must see them in real life to decide whether they actually look nice.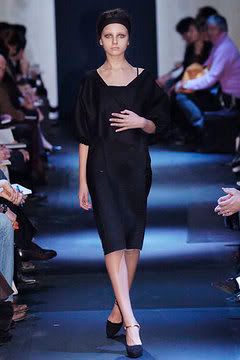 Again, I must applaud to Miuccia for being at the forefront of the fashion industry. She is an absolute genius.
Burberry Prorsum
Another fantasic show. Christopher Bailey brings out the beauty of the English countryside girl. But the most fabulous thing about this collection is probably that any girl, living anywhere could dress just like the models did on the catwalk, and look fabulous in the outfits, (well, most of them anyways.)