My London Fashion Weekend
Of all days to shut down the Sloane Square station, the highly ineffiecient London tube decides to pick Feb 19, forcing all the excited shopaholics to take the bus instead to the venue of the London Fashion Weekend, Battersea Park. I managed to drag a friend along to this special occasion. The atmosphere inside the huge white fashion tent was classy, the air was infused with coffee smell and excited female chatters. Inside the actual shopping venue, row of shops/stalls lined up neatly, together with Elizabeth Arden, Eve magazine and Tony & Guy stages at the very end.
The stalls were mainly occupied by British designers. It was a fantastic oppurtunity to discover talented small designers who never get much publicity. One interesting thing I noticed about the shoppers there: everyone seems to have worn their best jeans, shoes and bags! The only thing I have to complain about is that it got a bit crowded near the end.
The goodie bag (left) was bought before entering the shoping venue. It costs 4 pounds, and had many random items inside, including Elizabeth Arden mascara sample, a copy of Eve, 3 tubes of Tony & Guy Spectacular Gloss Hot Oil, notebook, coffee powder and a 2005 calender.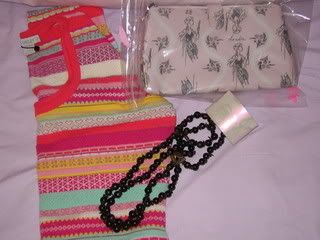 My proud accomplishments. The wooden bead neckalce was half price and the Lulu Guinness cosmetic bag was only 10 pounds (originally 35 pounds!) My favourite is the white braclet/bangle - it's got a subtle rose design on it, and the pearl white color is so useful for mix & matching outfits this season!
London Fashion Weekend was an AMAZING experience, definately one that all fashionholics will enjoy! As a last note, I must remind everyone that this week is the long anticipated Milan Fashion Week (my fav)!! Look out for our Milan Fashion Week wrap-ups later on this week.