London Autumn/Winter 2005 Wrap Up
London fashion shows have come and gone, and now is time to review them. In general, the London brands seem to split into two categories: one that is more traditional, ladylike, using simple colors a lot to put emphasis on the material & cutting; another that is more active, loosely boho-like, colorful and focuses on patterns & prints. Overall the London shows this season were suprisingly tasteful and once again, innovative.
You will probably notice that English fashion tends to be more loose-flowing and less obnonxious than New York fashion, (this of course does not mean we like London fashion more than New York fashion.) One prominant trend in the London Fashion Show is the stockings. As you can see, most of the English designers put tights underneath all the dresses, skirts and shorts.
Aquascutum
Aquascutum this season has updated their image. Gone is 'Aquascutum London', and to replace it is Aquascutum, a line featuring classic English designs fused with innovative cuttings. Michael Herz (one of the designers) hopes that the new line "will ensure that Aquascutum is still around in another 150 years." Below are two beautifully cutted outfits that are representive of this new line: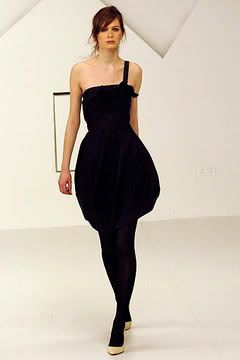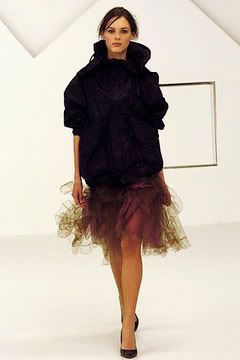 Betty Jackson
Betty Jackson featured some pretty and girly wintery items. There were some simple English pieces that were very classy. Most pieces were monotonous, and actually reminded me of Top Shop.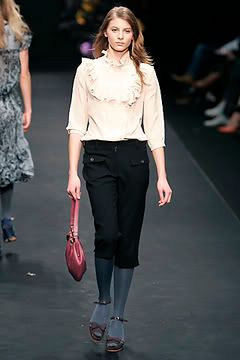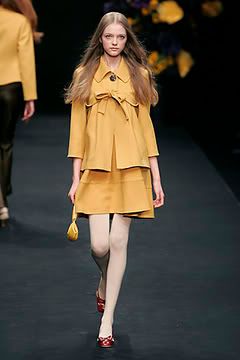 Emma Cook
Emma Cook's collection features a series of feminine military-style outfits with black stockings. Her signature style was prominent on the catwalk: heavy on details, but still simple.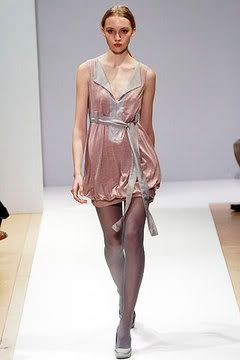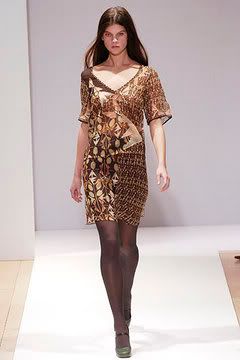 Nicole Farhi
One of my favourite designers in London this season. Nicole Farhi's collection this season was brilliantly cut, and the lush colors made the volume dresses even more pronounced and spetacular.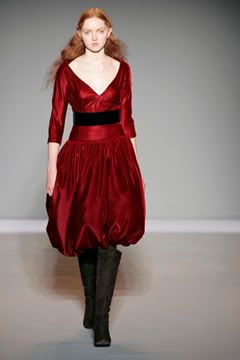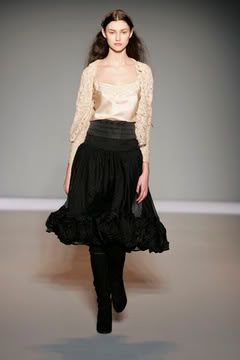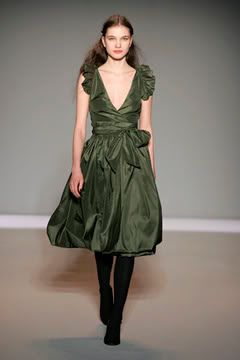 Paul Smith Women
Paul Smith describes this collection as 'a hint of Sixties, a taste of Bohemian and a few old classics as if you'd raided your mother's wardrobe.' And we agree. This collection actually reminded me of an English version of Marc by Marc Jacob's street-like style. Oh, and you must be blind not to notice the orange stockings?
Temperley
Now that we're on the topic of English fashion, can we possibly NOT talk about the famous Temperley? Alice Temperley is probably one of the only English designers to have many of the English posh socialites attend her show. The collection was presented in a Spanish mood, and the colors were mainly plum, red, black and white. The clothing were well, the typical Temperley style you would expect.