Wear your underpants, the funky way
Many of the fashionable (such as we,) are desperate for spring to come so we can start wearing pretty skirts and dresses again. But what do you do if you really want to wear one now? Admittedly, I have seen people in the streets wearing mini skirts with Uggs, but REAL fashionables never dress out of season, (ie. We are telling you once and for all that mini skirts are for summer, not winter.) Here's a funky and fashion-foward way of dressing in season and not look ridiculous in skirts, (not to mention your body will love the extra heat insulation.)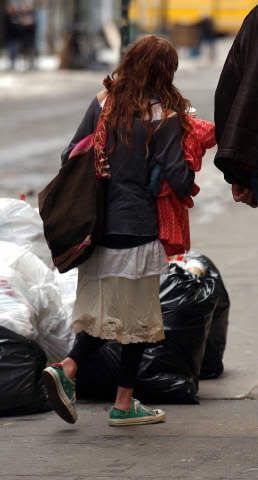 I am inspired by the way Mary Kate Olsen wears thin black pants underneath her skirts. It makes her look more bohemian and just gives her outfit that extra touch. But be warned: don't wear pants that are too thick-looking, or those that are too long. You will just end up looking bulky.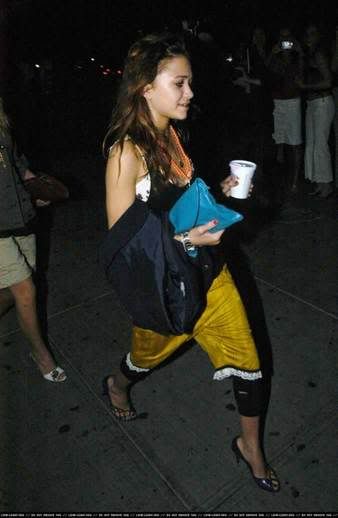 Here's another excellent example of Mary Kate's excellent outfits, (remember that she just got listed as the 9th best dresser by Glamour magazine and she is only 18yrs old.) Matching the black underpants with a pair of bright colored pants emphasises on the multi-layers.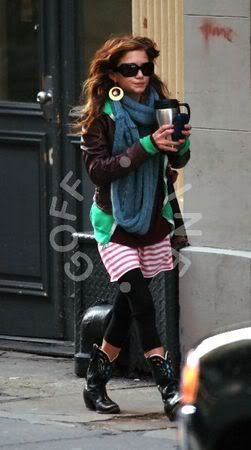 The black underpants still look great and trendy even when matched with such a casual outfit. And it definately keeps the legs warm. Also notice that the underpants are never long enough to touch the boots. In order to make them look funky, you must still show a teensy bit of skin. But if you going for a more girly and ballet look, you can let the underpants be long enough to cover your whole legs.