Braclets Trends Spring/Summer 2005
If you haven't realised that bangles and cuffs are going to be BIG this season, you must have been winter hibernating. This season, earthy bangles, and colorful cuffs are the perfect accessories to match with all the 'in' looks, (such as boho luxe, safari, greek etc.) Most of the braclets should be worn loosely around the wrist. The selection is endless, and here are some of our favourites, (and best of all, most of them are actually affordable!)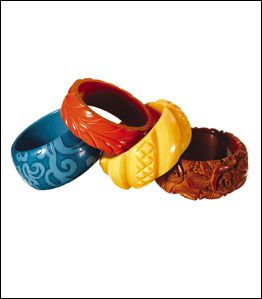 by Etro (blue $195, orange $250)
and Harry Neufeld at Main Floor (yellow, brown $20 each)
Wear these chunky, colorful, carved bangles, and you will be one step closer to achieving the boho luxe look.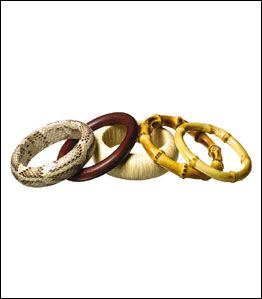 by Erickson Beamon
(Python bangle $180, Wood bangle $45, Straw knit bangle $75, Bamboo bangles $35)
My favourite set of bangles I have seen this season. They give off the boho and earthy vibe, and can be worn with all outfits. Perfect.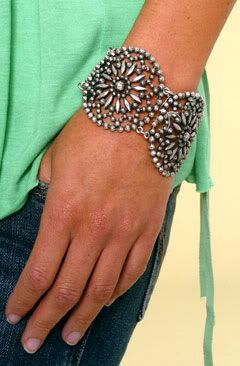 from Urban Outfitters ($16)
These go with the boho look as well as the greek theme. If you don't like the chunky bangles, this can be another choice for your braclet of the season.

from Accessorize

(£8.00)
Did we mention that 'jet-setting around the world' and 'freedom' is part of this season's theme? Wearing jewelry made of shells will instantly transport you onto your summer holidays. Can you smell the sand and ocean?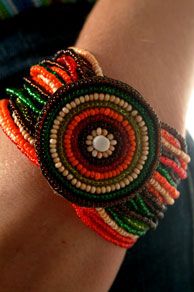 by Free People ($128)
Another choice for those of you who don't like bangles. This beaded cuff is colorful, eye-catching, and can be part of the boho or safari look. The colorful strings of beads are very well coordinated and can add a brilliant touch to simple or multi-layer outfits.