Paris Autumn/Winter 2005 Wrapup I
You will all be happy to know that the ready-to-wear collections in Paris this week, are actually ready to wear, even for us normal human being, (well, most of items anyways.)

Dior
As John Galliano's contract is coming to an end this year, he is eager to boost up the always-rising sales of Dior, in order to secure a higher paid contract. The Dior collection AW 05 is the most wearable yet, and is a down-to-earth replica of his most recent couture collection. This is one Dior collection I actually genuinely love, because there are so many items that suit different types of

women.
Black & white mohair sweater dress with floppy leather cap and basic stylish black leather boots. This is a young, stylish yet careless look. Take note that black and/or white are dominant colors in this collection, as in many others next season.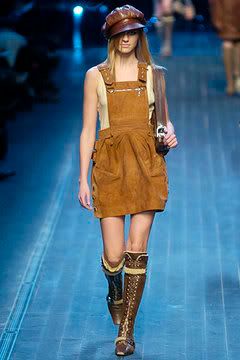 Tan leather overall with a volumous mini skirt twist, complimented with brown leather boots, bag and cap. The thing I admire about this outfit (apart from that rarely stylish overalls,) is that the model is wearing a top underneath the overall, making the whole look sexy but not trashy.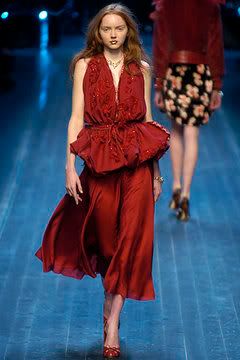 Another important color next season- red, seems to play a mojor role too in Dior's collection. This sexy doll-like outfit is sexy, yet volumous and seems comfortable to wear.

Balenciaga
Balenciaga this season can be described as out of the world. The designs are indeed, unlike others from other fashion houses we have seen before, and serves a a refreshing change. Black and white dominate the show. You will notice the military influence on most items.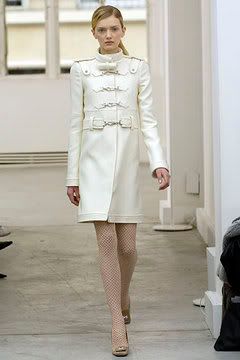 How could anyone not like this practical-looking and mega stylish white coat?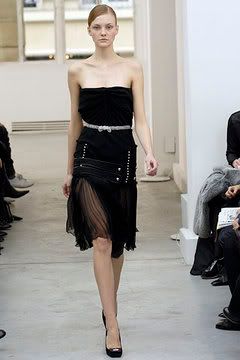 A dress with a military-influenced top and feminine flowing bottom. The beautiful silver belt on her can also be as ankle straps on some of the shoes, such as the one below.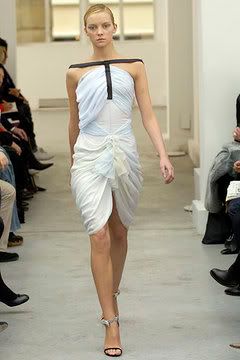 Definately one of the most unique designs this season. The way that the white material is gathered, and the black T-shape hangs onto the model's shoulder is divine.
Jean Paul Gaultier
Admittingly, Gaultier's designs have always been a bit, err, unrealistic and trashy-like for our taste. But in this collection, Gaultier injects sparkling glamour into his typically military-like outfits. However, the outfits that I actually liked were the ones that were more feminine like this one: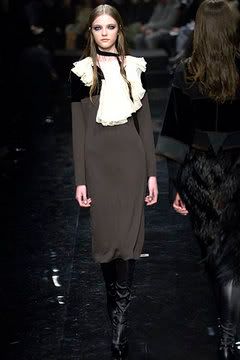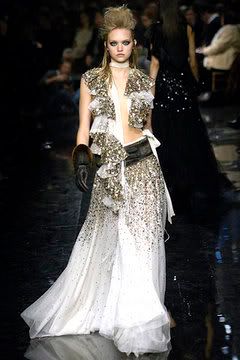 This is my favourite outfit from Gaultier's collection this season. The cutting is so Jean Paul style, and yet so glamourously sprakling and feminine flowy at the same time. Simply amazing.
Lastly, we just want to make sure that you also go check out the collections by Yohji Yamamoto and Issey Miyake. Both designers never receive as much publicity as the ones above, but their style deserves more regonition in their own ways.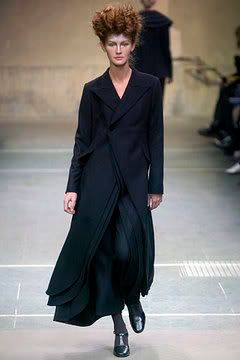 By Yohji Yoamamoto. The Japanese are always brilliant with doing a re-mix version of western style clothing.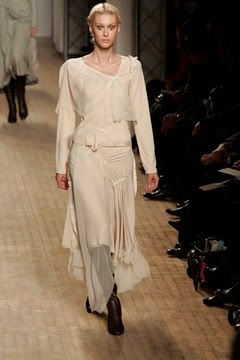 By Issey Miyake. You can obviously see that a lot of thought was put into the design of this dress. And matching dresses with boots is still oh-so-in.