Spring 2005 Color: Yellow
Spring is just around the corner (thank god) and the color code for the season is anything bright and colorful. And what better color is there then yellow when it comes to being bright and colorful? And it appears that our favourite designers agree as well. . .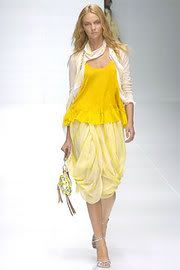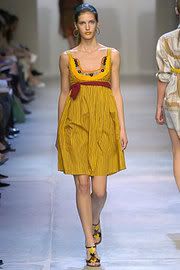 Looking very yellow on the Burberry Prorsum and Miu Miu Spring/Summer 2005 runway. And as you may have noticed, stripes are also very prominent this season. I think it sets off a good contrast with yellow and prevents one from looking like a lemon.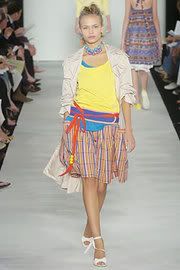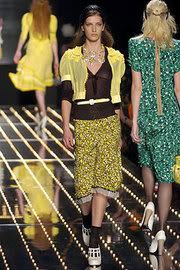 But if you don't want to be completely yellow, you can take a lesson from Marc Jacobs and mix-n-match yellow with other colors like he did for the Marc by Marc Jacobs and Louis Vuitton Spring/Summer 2005 runway. But unfortunately not everyone can afford the aforementioned brands, here are some good alternatives. . .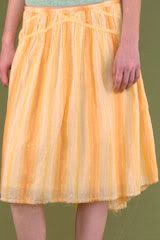 This yellow and white striped skirt from
Urban Outfitters
can be used to achieve the look featured above by Burberry Prorsum. I recently bought this skirt myself, they're on sale at UO now and are fast running out- so do go quickly!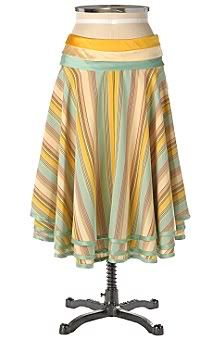 This yellow, champagne and teal stripes striped skirt from
Anthropology
is perfect for mix-n-matching with other colors. The fact that it is so voluminous is an extra plus this season too!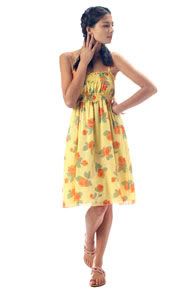 But if mix-n-matching is too much effort, take a page from Miu Miu and try a yellow patterned dress. This yellow floral dress from Free People is perfect for a day out in the sun.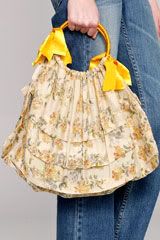 Match it all up with this cute yellow floral bag from Urban Outfitters. . . .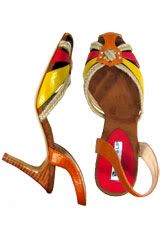 And these funky heels with a tinge of yellow also from Urban Outfitters (where else?). Of course, these accesories can also be mix and matched in their own right with other colors as well. The possibilities are endless!!