Harrods Girl shops Tokyo Day III: Roppongi Hills
After talking about my 2 days of shopping, it's about time to talk about the area where I actually lived in. Usually, my family stays at the Century Southern Tower, but my dad heard from his friends that THE hotel to live in now is the Grand Hyatt Tokyo in Roppongi Hills, (rumours are that it is one of the most expensive hotels in Tokyo.) For those who aren't familiar with Japan, Roppongi Hills is sort of a business district -with lots of rich people in pretty clothes walking around too.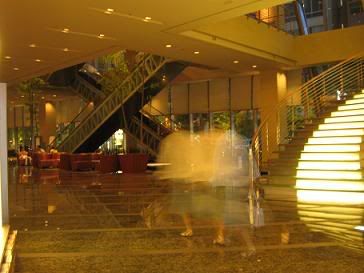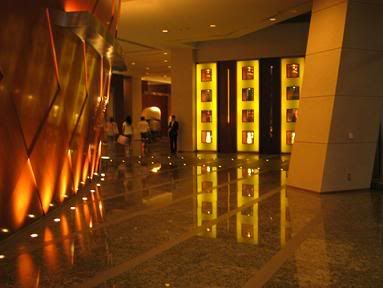 These are photos from the Grand Hyatt lobby. It looks so smart and modern-looking. Everyone in the hotel seemed to own at least a Vuitton bag/ luggage, and had very pricy clothes on. And more importantly, the service people actually speak very good English! In the hotel rooms, there were actually flat screen TVs, and the bathrooms are very high tech and classy!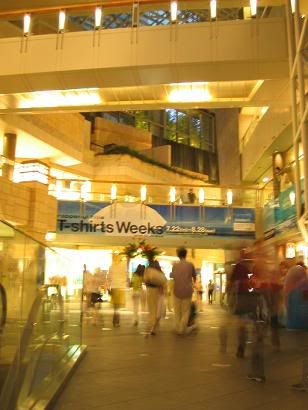 Next to Grand Hyatt is a groups of malls and street filled with expensive Japanese and western shops. (For example, the shop right outside my hotel room window was Escada.) This photo shows the mall that is connected to the hotel. The architecture of the mall is a fusion of the Japanese and contemporary city style.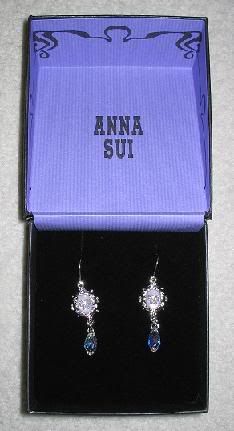 I was so ecstatic to find an Anna Sui shop in this mall. I ended up buying these earrings. The crystals that dangle at the bottom are so shiny and the oval thing with the butterfly in the middle can match a lot of my outfits.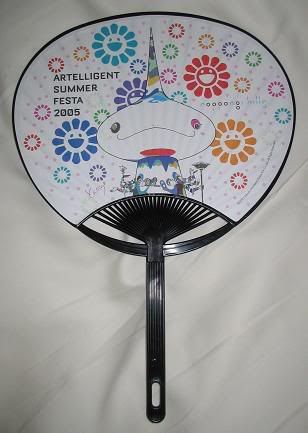 In the mall, they were having a special event called the Artelligent Summer Festa 2005. Basically, they had stalls selling goods with anime/ cartoons on them. I was so excited when I saw the designs -they were designed by Takashi Murakami, the guy who designed for Louis Vuitton! It was a hot day, so the promotion people were handing this fan out for free. Isn't it such an adorable fan?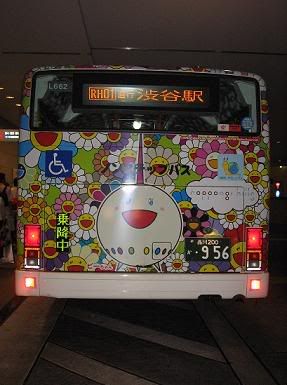 This is the bus I took from Shibuya to Roppongi Hills. The whole exterior AND interior of the bus was covered by these very cheerful anime characters (smiley blobs with complementary smiley flowers)!! Taking a bus with the same designs as Vuitton bags ... you only get to experience this in Tokyo!