SS06 Fashion Trend: Haute Ballerina
A few days ago when I was shopping in Marc by Marc Jacobs, I noticed at the outfit on one of the Marc salesgirls: she was wearing a shirt dress (as shown in picture above) and had two shirts layered underneath. Also, she had on black glittery eye shadow and mascara, which made her look more 'cool' than 'girly'. I LOVED this look, which I like to call the Haute Ballerina look.

Taking inspiration from the Marc SS06 runway, the first thing you must have are the layering shirts. Buy these cheap from high street stores and make sure you buy both long-sleeves and mid-sleeves ones.
The ones shown in the picture above is from Urban Outfitters. I have also seen a lot at H&M, (even the colors looked suspiciously like the pastel yellow, blue and pink that Gemma is wearing in the picture.)

Next buy some tights -available in footless and down-to-the-feet versions. Unless you have extra skinny legs, don't buy horizontally-striped tights. The ones shown in the pictures are from Urban Outfitters, just so you don't have to splurge on Marc tights.

If you like the look on the left, then buy this Marc jersey dress (or go find similar ones.)

These two Marc runway looks are a bit more girly and summery than the first two, (maybe it's just the color.) Anyways, tying a sash around the waist is a great way to accessorise and makes the two layers seem more cohesive.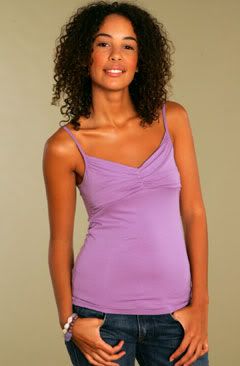 To recreate the look on the right, buy camisoles that bunch up at the chest area, like this one from Urban Outfitters.

And if all the dresses and ruffles are too girly for you, recreate this haute ballerina look with the oh-so-trendy skinny jeans -that's probably where this whole tights trend spinned out anyways! Don't just wear a camisole with jeans though, you must wear layering Tees with them.