SS06 Makeup Trends: Pink
In case you haven't got the memo, mascaras and fake lashes aren't that important anymore. This season is all about the natural look. According to a NYT article a few months back, this season's makeup is all about looking like Gemma Ward. Makeup artists are all loving Gemma's natural look (esp those flushed cheeks!) And although obviously none of us can possibly achieve Gemma's healthy alien look, we can have fun attempting that no-makeup madeup look.
Miuccia Prada and her shows' makeup director, Pat McGrath are huge on the pink lips this season. This could mean seriously shocking pink (Prada) and extremely pale pink (Miu Miu.) And in between these two extremes, there are a lot of other shades of pink seen on the SS06 runways:

Pale pink at Miu Miu -although if worn in real life, one might end up looking like a zombie.
Nude-pink at Chloe
Girly pink at J.Mendel -So pretty!
Slightly redish pink at Carolina Herrera and Max Mara
Shocking pink at Prada -V eye-catching and forms a big contrast with pale face.

You will notice that apart from the no-mkaeup madeup look, there is also the no-makeup-except-pink-lipstick look.
To be honest, I have no idea how pro makeup artists manage to make models' lips soo pale pink. It can't be just lip stick, because some of the natural red from the lips should still show. Maybe they put on foundation on lips too?


Anyways, MAC has a new collection of lipstick (which I know is a fav to a lot of people), all in pink.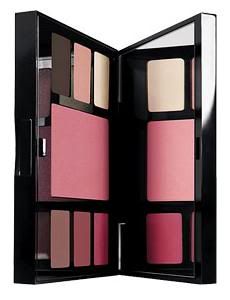 Bobbi Brown Pink Face Palette -Lip colors, blush and eye shadows all in pink. A total no-brainer if you want the natural /pink look.

And lastly, the oh-so-famous Nars blush in Orgasm. I have yet to read a Best Beauty list that didn't have Orgasm in it. It's best used for the subtle flushed look. But it's not very pink so if you're looking for a stronger cheek color, go for solid blush colors. Personally I am using MAC blush in Pinch O' Peach for the natural look.
So make sure you have your healthy-and-flushed face on in the coming summer days!