Vanessa Bruno SS06
Vanessa Bruno is a brand that has been around for awhile, but I've only started to really notice it when a bought a cardigan by Vanessa Bruno last season. At first glance, Bruno's clothes may seem a bit plain, but the cutting is not-so-typical.
OK, first take a look at part of Vanessa Bruno's SS06 collection:
See what I mean? You get a really French-chic feel from the clothes. Simple, casual yet still so sophisticated. It's totally got a Chloe/ See by Chloe vibe going on.

This is a top I would really like to try. Unfortunately after visiting at least ten places that carry Bruno clothes, I still have yet to see this top! Where where where do they sell this!?!

Now this Crinkled Silk Camisole I have actually tried on, and loved it! It's sooo gorgeous, and the use of silk and chiffon together is tres sophisticated. And this acid blue color is so unique and eye-catching. Alas, it's a bit out of my budget for a pretty top. Perhaps if it's still available when it goes on sale......

I like how this top is so plain yet well-cut. It's great for days when you're really not bothered to mix and match clothes, and just throw on. This top is so popular on net-a-porter that it's already sold out!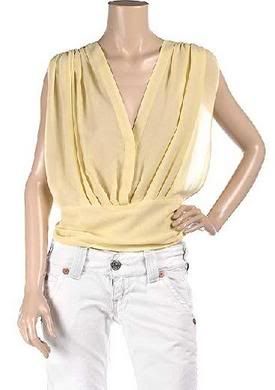 Another casual sexy, sophisticated top. Obviously when worn in real life, you should wear a simple cami underneath.

Originally from Paris, the clothes are available mainly in Paris and Tokyo, but most of the major tend-to-high-end department stores also stock Bruno clothes (such as Selfridges, Urban Outfitters London, Harvey Nicols, Lane Crawford etc). Unfortunately Vanessa Bruno currently only has a
Japanese website
, but like me, you can probably just click around and find the pictures. To see even more clothes, go check out
net-a-porter.com
.