SS06 Fashion Trend: Dungaree Dresses
I had always associated dungaree dresses (and anything that look like overalls) to the 90s. So I was pretty surprised when this trend is back again so soon. I'm not a big fan of wearing-overalls and the workman look, but the dresses are too cute and fun to play with to resist. Also, if you're the fashion-loving type who notices runway backstage photos, you'll notice a lot of models have been wearing dungaree-clothes, (although models can get away with wearing anything of course.)
Dungaree dresses are not the easiest things to wear, but there are a lot of ways you can make it fun and trendy. From the SS06 runways:
Hermes and Max Mara -The simplest way to wear it, ie. wearing only the dress. While this works on the runway and works with professionally tailored dresses, you might end up looking like you just walked out of a construction site in real life when you wear the high street versions.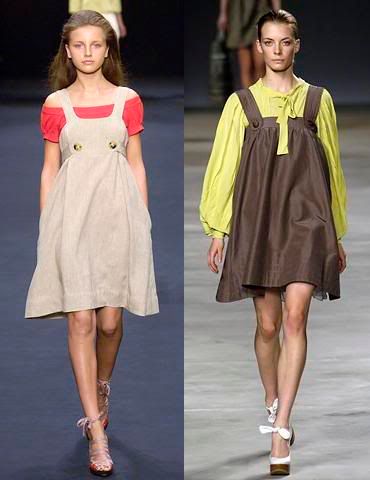 Betty Jackson and Chloe -SO cute and fun! Wear eye-popping coloured shirt or polo underneath. It would be best if the shirt underneath has a good cutting or made of silk, so you would look stylishly cute instead of childish cute.

Marc by Marc Jacob -Are there any trends that can't be found on the Marc runway? The right look shows how dungaree dresses can be incorporated into the haute ballerina look by using simple layers.
Shopping around online:
This denim dungaree dress is by Guess. From the photo, it actually looks pretty well made. I did see a similar, lighter-coloured version at H&M and thought that one looked cheap. (I bought it and returned it the next day!)

Lux Washed Rip Apron Dress from Urban Outfitters -I actually just bought this one last week. I tried it on with a sparkly tank top underneath and loved it. It's also got a bit of an empire-cut, so it looked like a dungaree babydoll dress when I tried it. In typical UO fashion, it def looks better in real life than in this website photo.

Top Shop Pinafore Style Dress -From the shape of the dress, I'm guessing it won't suit everyone. It's much easier to wear A-line ones (like the Guess one.) However, I have seen some people pull it off and they look great in it.

Sunner Christie Overall Dress from Shopbop -Here is an example of unflattering shapes. Actually, the problem with this dress is that it doesn't seem to have much of a shape. When shopping, look for the dungaree dresses that tighten at the waist or have an empire-cut.
Do have fun with this trend!