Milan Spring/Summer 2007 Wrapup I
Pringle of Scotland
I always thought Pringles was a sweater brand for guys. Hence I was surprised and delighted to find their SS07 runway for women, so casual, feminine and airy.
The pieces were bright and refreshing. And the balance between looking casual cool and feminine was just perfect.
In addition, there were also more structured and boxy pieces like these that just looks awesome. I especially like the poofy sleeves white shirt with the grey shorts.
Evening wear that is casual, cool and youthful.
Giorgio Armani
For once one can use words other than sleek and elegant to describe Giorgio Armani. This season, he experimented with form and combined his signature sleek and elegant style with the casual cool that has been so popular on the runway this season. But I feel that Giorgio is trying too hard to be different from his usual designs and following the current trend, because while some looks that were more typically Armani were gorgeous, some of the more different ones were just wrong. The collection was also repetitive. I wish he'd just done a few remarkable pieces instead of a lot of unremarkable ones.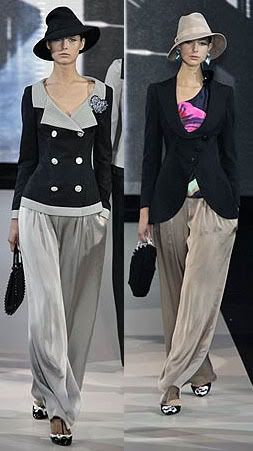 He combined sleek assymetrical blazers (which are absolutely gorgeous btw), with stylish loose pants, strucking a balance that is just genius. This worked.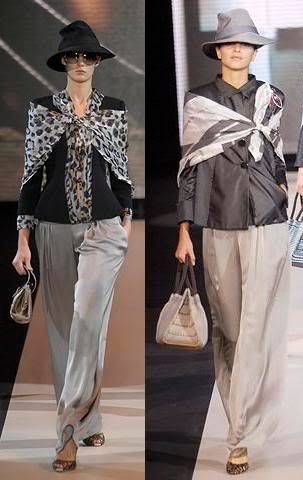 Restraining scarves tied around the shoulders was also very prominent on the runway. Frankly, it takes away from the perfectly nice outfits underneath the scarves, but maybe Giorgio was just thinking of a way to work scarves into the runway for marketing purposes.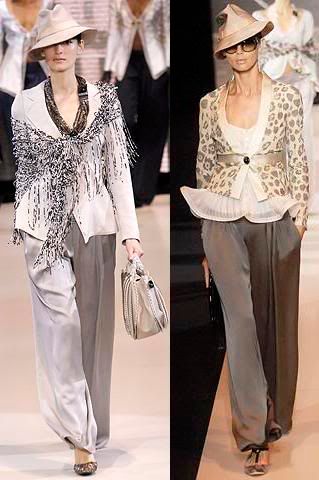 These two outfits looks frumpy. The multiple layers and proportions are all wrong. This definitely didn't work for me.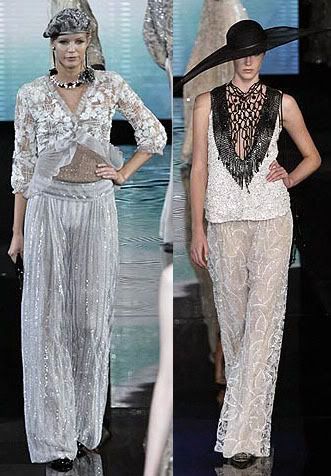 Evening wear wise, these two were just too much and the proportions were again all wrong and frumpy.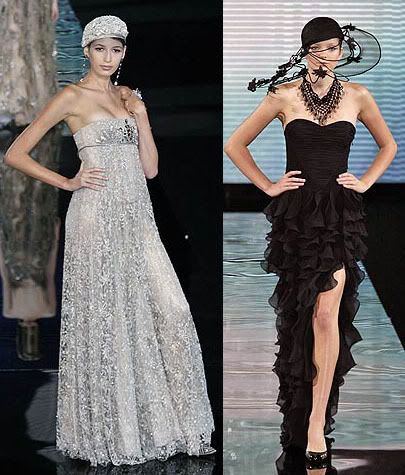 Thank god for these absolutely divine dresses to remind us that the true essence of Armani.
Burberry Prorsum
Chris Bailey continues to astound us with his gorgeous gorgeous designs. This season, inspired by Cecil Beaton's photographs from the 20's, he amped up his collection with more volume and shape. The effect is whimsical, feminine and oh-so-pretty!
The ways Bailey manage to reinterpret the trench coat never ceases to amaze me. Last season, he had fur and this season, he has these wide collars and princess-like sleeves. I want one of these!
Bailey also did some casual chic looks using volume and layers. The way it is put together is just genius.
Casual chic dresses. I adore the simple white dress with the slightly flared sleeves. Its so easy to wear and yet still so stylish.
For the evening, Bailey offers these shiny variations of the trench coat. I just adore the shape and the structure of these two looks.

Then there are these very very cute dresses that shine and sparkle. A stunning collection.