New York Spring/Summer 2007 Wrapup IV
Its finally fashion week again! This is my first post on it this season, and wow I've forgotten how long it takes to post fashion week. Apologies for the very late post. So far I am loving what I am seeing- makes me really want to master that slouchy casual chic look!
Vera Wang
Another gorgeous collection from Vera Wang. Anyone else using so much organza on the runway would make their models look like a multi layered cake, but Vera just cleverly uses it to create simply stunning pieces.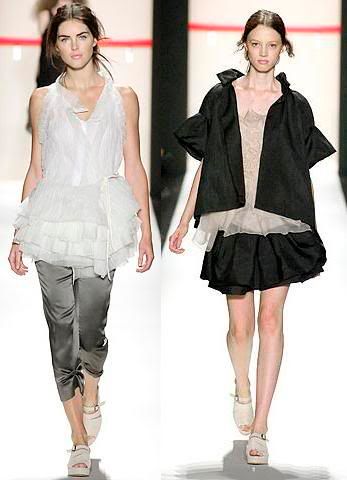 I can definitely see some balletic influence in these two looks. She strikes a genius contrast by pairing sleek silk pants with the layered organza top. And isn't it amazing how fabulous and cute the model looks in that outfit on the right, which with one misstep could've easily just made her look bulky?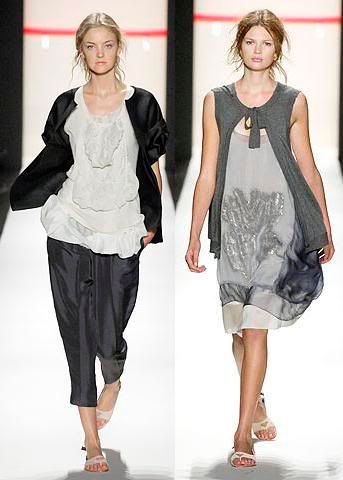 There's also a more slouchy casual atmosphere to her looks this season, with her more relaxed shapes and pairing of evening organza and silk materials with daytime jerseys (or whatever the material of the grey jacket on the right is).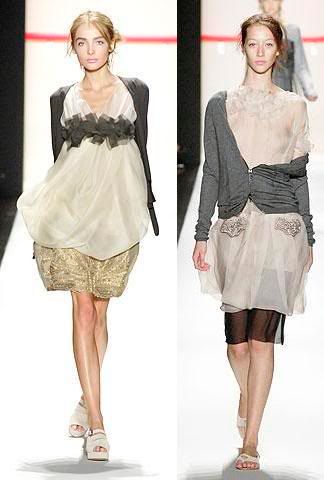 I simply just LOVE LOVE LOVE the outfit on the left. The organza shirt with the gold bubbly skirt made casual by the long sleeved grey cardigan. Genius use of grey cardigans.
And of course, there were also lots of her signature dresses which were just beyond words.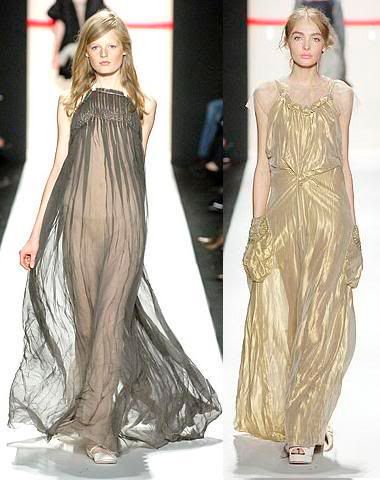 Peter Som
At first glance I LOVED Peter Som's collection. It was neat, ladylike and soooo well put together one cannot help but fall in love.
The materials he used is so rich and elegant. Please can I have that dress?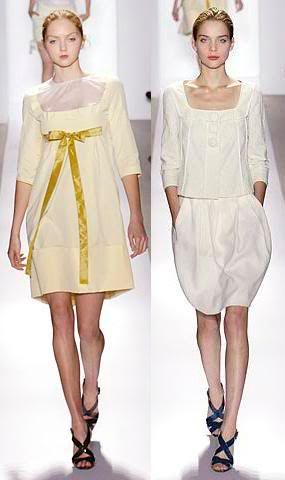 The ribbon and the row of three button adds a litle bit of fun to elegantly sophisticated outfits.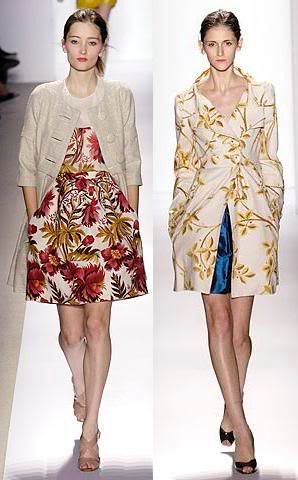 He even does prints elegantly. But this is about as casual as he gets!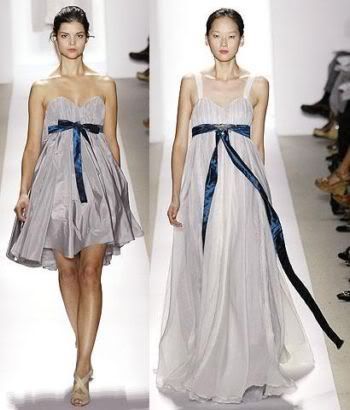 Because next comes his heavenly flowing dresses.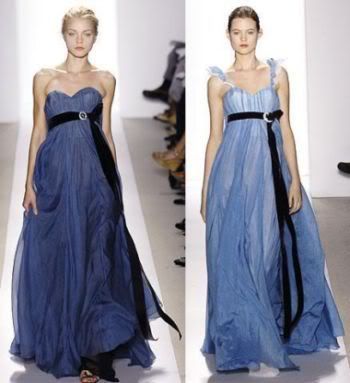 Unfortunately, as much as I love this blue, his designs does seem to lack variety as one can see from the last 4 dresses pictured.
Derek Lam
After hearing my girlfriends raving about him for a time, this season I decided to pay special attention to his collection- and wasn't disappointed at all. His collection was casual chic with loose comfortable but stylish pieces that is still feminine. He definitely achieved his goal of allowing 'women to feel natural in her gestures. '




The definition of casual chic. One can also detect a hint of masculinity here from the tux vest worn oh-so-casually.
Note that the black rounded collar with the row of buttons (also shown above in yellow outfit) was a prominent feature throughout the collection. It adds a bit of structure to the loose design. And the outfit the quirky prints on the outfit on the right is just so much fun.

These are my favourite looks on the runway. I especially LOVE these wide collared coats. It structure balances the rest of the outfit to perfection!!

These tulip dresses looks like so much fun.

This black dress is just classic and gorgeous, while the flowing navy blue dress with the braids is just divine!!!
Zac Posen
In a season where most have followed the loose, casual chic look, it is somewhat comforting to see the more traditional sleek, form-fitting sophisticated look on Posen's runway. But even though its more traditional in a sense, it is most definitely not boring!
The sophisticated office chic look- it is simple yet interesting.


And for the night, there is this sleek silky jacket with the flared sleeves and this effortlessly cool and simple silk dress (I want one!).
Something familiar yet different, his reinterpretation of the trench is just genius. And the tulip skirt is darling! I'm also loving the silk tux jacket with the rich navy collar and sleeves. It adds instant glam to any outfit!
It is definitely refreshing to see such vibrant colors on the runway. The gorgeous rich emerald gown and the delicious orange dress with the pink bow looks red carpet ready!
As much as I like this collection, there were a few anomalies. Some like these two were a little bit over the top. The orange dress looks like a gift wrapping explosion and the shape of the pink one is just not flattering. Although I guess it would be the perfect red carpet dress for the pregnant ladies- maybe he had Heidi Klum in mind when he was designing it?
And this one is just tacky.