New York Spring/Summer 2007 Wrapup III
Marc by Marc Jacobs
I can't believe I'm still excited to see new SS07 collections after seeing so many already, but I am -and that's mostly because Marc's clothes are just so loveable! I love how wearable this collection is, (but then again, the Marc collections are almost always wearable.) And like yesterday's Marc Jacobs collection, I love the colours. I'm so excited I can't stop gushing about the clothes. OK, moving on...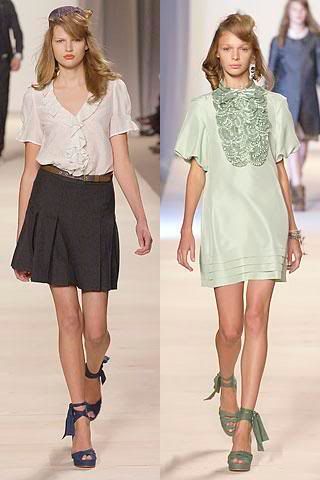 This first outfit got me worried the whole collection would look too mature and office-like, but thank goodness it wasn't. (Right) The shift dress continues into the next season.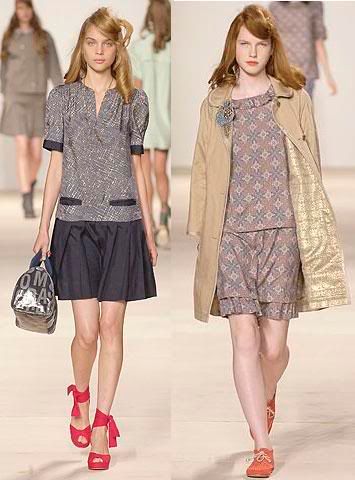 You will notce that many of the clothes of this season seem very similar of the clothes from the last two collections. The puffy sleeves, the bags......
But the colour palette has actually changed a bit. The colour palette of this Marc collection is very similar to yesterday's Marc Jacobs collection: white, blobs of yellow and blue, and lots of shades of neautrals.
Dresses continue to be a big thing.
Belts were also featured quite often in this collection. I love how a belted cardigan (or any belted tops) pulls together an outfit so well. And I love the silverish purple dress on the right -it's sooo pretty!
Marchesa
This is one debut show we've all been waiting for. Ever since I saw Mischa Barton in a gorgeous long grey gown by Marchesa awhile ago, I can't stop oohing and ahhing everytime I see a celeb wearing Marchesa. And if you've seen photos of the two designers, Georgina Chapman and Keren Craig, then you'll notice that they are always fabulously dressed themselves too. These gowns are just too pretty:
Almost all the gowns in this collection had oh-so-romantic roses, and all the models glowed on the runway in Christian Louboutin pumps.
There were short dresses. I really like the dress on the right -it's so glam and sparkly.
And there were long dresses. It's stunning how the long fabrics move around the models and seem so light.
Narciso Rodriguez
Rodriguez's collection continues to be minimalistic and his signature cuts prominant.
At first glance, I thought this was such a fantastic simple outfit, but when I looked at the details, I was even more impressed.
The main cuts througout this collection. I love how he incorporates patent leather in his clothes.
*Sigh* Such lovely, stylishly clean-cut clothes. Wouldn't it be so nice to wear these clothes to work? (But not the long dresses of course.)