New York Spring/Summer 2007 Wrapup V
Ralph Lauren
After the wonderful english hunting party last season, I really didn't expect to be stranded in the wilds of Africa this year. Granted that the wilds of Africa is not my idea of a vacation, this year's collection was boring. So much, that they actually started with black t shirt and black pants!
Its one thing to be influenced by the safari, but quite another to reproduce clothes directly from that era. I cannot imagine women nowadays wearing that floral dress- especially with the shoulder pads!

Did I mention that these are actually the more interesting pieces that I've picked? But oh well, these are very classic Ralph Lauren and I'm sure that the cutting and everything is flawless.
The only interesting bit of the show were these shiny evening wears. Love the funky silver leather jacket and the slouchy casual dress.
Another even more shiny slouchy silver dress! Loves them. The design slightly remind me of the shift dresses from Miu Miu SS06. And the long silver evening gown is a winner.
J Mendel
This collection was very into geometry and shapes, and the effect was very put together, fun and feminine.



Geometry works well from office wear to cocktail dresses.

Geometry also adds fun details in the form of circular patterns to these immaculately shaped dresses.
Loving this gorgeous lilac coat, the color is just so soft and feminine. And the dress is just wildly beautiful.
Then there are these gorgeous gorgeous heavenly dresses with their flowing skirts and soft dove grey colors.


Completely divine.
LAMB
Surprisingly one of my favourite New York collections this season turns out to be from LAMB. The designs were refreshing, mixing preppy and sophistication with Gwen's glam rocker chic style- it was absolutely brilliant. I can actually picture myself wearing some of these clothes!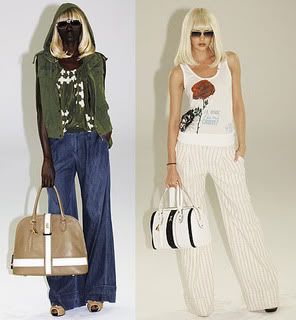 Casual cool. The rocker outfits were perfectly balanced with ladylike bags and seesuckers (right).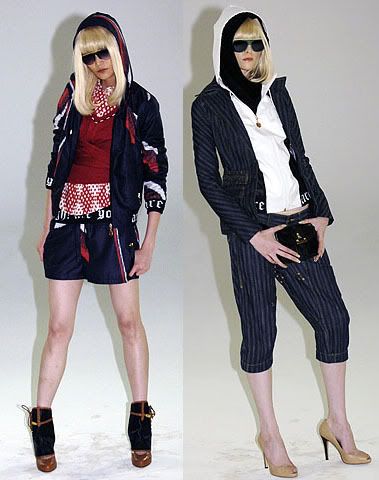 Rocking up the preppy outfits of dress shirts and blazers with layers of hoodies. The one on the right is one of my favourites.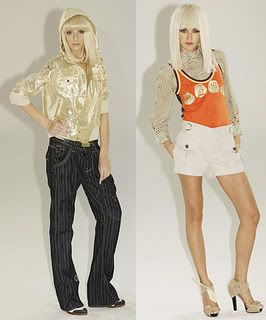 I also love the glam gold satin jacket with the subtley striped pants! And the look on the right shows yet another way to rock up the preppy with prints.
Even more clean cut ladylike looks. I can totally picture myself lusting after that white bag (right) next spring. I wonder if I'd be so lucky that they would be as affordably priced as the ones as the LAMB's from Le Sportsac. . .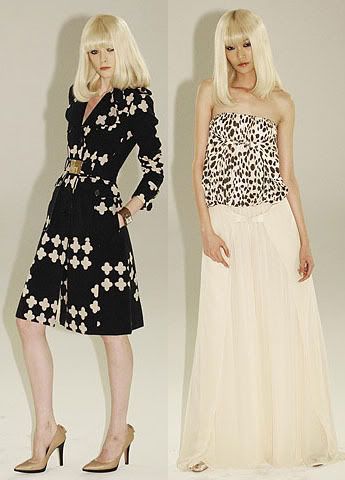 Gwen even manages to make this sophisticated jacket rocker-esque. And even though I'm not a fan of leopard prints, I must admit that this outfit looks fab and even ladylike! I just love love love this collection.