The Beautiful Classicals at Golden Globe Awards 2006
The fashion at this year's Golden Globes was AMAZING! I LOVED the main theme of lux. whites and neutrals. For once, most stars were dressed very up-to-fashion and the dresses actually suited the stars who wore it, (as opposed to stars wearing unsuitable dresses just because they were trendy.) The dresses were mostly SO beautiful that I'm only going to talk about the dresses I liked the most:

Reese Witherspoon -LOVED her haute couture Chanel dress. It's Chanel without looking old, and glamorous without looking over the top. I also love how simple and elegant her shoes were. And Reese just prooves that to outshine everyone, all you need is an incredible and genuine smile. She's such a darling
!

The women of Wisteria Lane -Teri Hatcher in Versace, Felicity Huffman in Marchesa, Nicolette Sheridan in Armani, Eva Longoria in Bob Mackie and Marcia Cross in Marc Bouwer. As usual, the colors of the five are conviniently coodernated. The styles of their dresses are very 'them' -Marcia in a red-hair-complimenting-colored dress, Eva being very eye-catching and Teri sleek and glam. Not unexpectedly, breath-stopping beautiful...... just elite as normal.

Charlize Theron -looking exquisite in Dior. I love the whole black lace over nude-color tube design.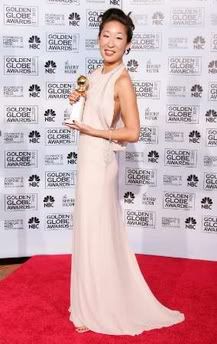 Sandra Oh -in a slinky Collette Dinnigan gown. The dress really suited her. Congrats for her winning Best Supporting Actress in Television Series, she def deserved it! For those who don't know, Sandra is an intense surgical intern in Grey's Anatomy. Grey's Anatomy is one of my recent favourite tv show -all the characters in the show are so smart!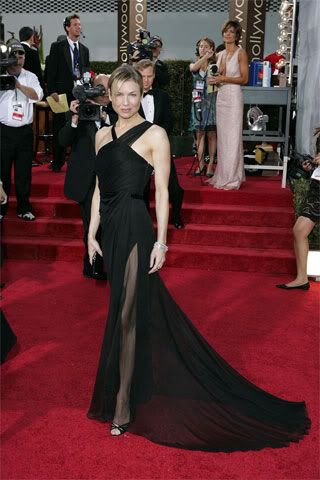 Renee Zellweger -in Carolina Herrera. For once, Renee really looked great in her dress, at least not as awkward as she did in previous dresses.

Keira Knightley -possibly one of THE most stunning actress on the red carpet in this Golden Globes. She's wearing a Valentino gown and holding a Tod's clutch. She looks so dazzling I don't know what else to say!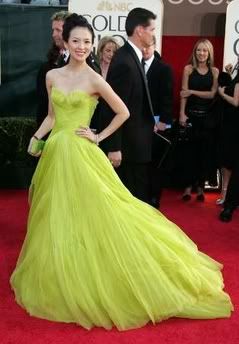 Ziyi Zhang -in a bright, lime Giorgio Armarni gown. This is def one of the more daring dresses on the red carpet, and Ziyi really wore it well.

Kate Beckinsale -another one of my very favourites. She wore a Dior gown. She's also another 'simply stunning' star. The dress is so divine and elegant.

In general the makeup was absolutely luminous -picture porcelin skin with black eyeliner and
mascara on a well-highlighted face.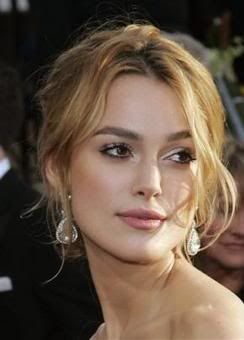 Hairstyles were mostly up-dos. My favourite was the glamorous-looking messy up-do, which made up-dos less stuffy and more youthful. Seriously, look at Keira Knightley, her makeup looked gorgeous and her hair seemingly casual. This is what being young and fabulous should be all about in 2006!