SS06 Fashion Trend: Empire Waist Tops
Even though I know and write about all these SS06 trends, let's face it, I'm a student and really don't have the time nor money to actually wear these trends everyday. Thanks to Fendi, one of the trends this season is wearing belts over your top/ jacket:
But honestly, it's so hard to wear belts without it crinkling your top, and who really has time to put on a belt when you need to be in class in five minutes? So the way to do this trend is to wear casual emprire waist tops. They're easy to wear and most importantly, flattering to most body types.


I bought this Marc by Marc Jacob top a month ago and having been loving it since then. It's so pretty and terrific for livening up an outfit. I usually wear a yellowy beige blazer over it and match with black pants.

Another very similar top by Marc by Marc Jacob (except it's sleeveless.) Marc really knows how to use details and what girls love.

By Ella Moss. This top is even more simple than the Marc tops. The only thing is you would probably need a long body for this top to work.

By LOVE by Ya-Ya. Available in other colors too and available at shopbop.com. This is slightly low-cut for a casual day but it's just so nicely cut and you could def wear it again next summer.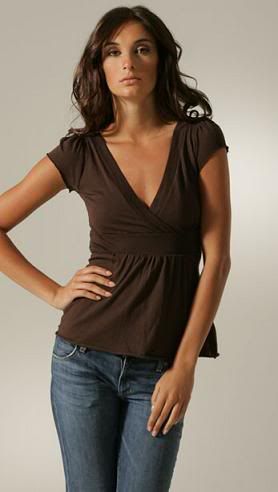 Another similar top from shopbop.com by Velvet.

This jungle print top is by Banana Republic. I don't like the prints but that's just personal taste.

Cotton top by Urban Outfitters. This is more doll-like than empire waist, but it gives a similar figure-flattering effect (and it's probably the cheapest option!)