BG's Paris Diary Week 7: Part I
I just came back from a very very long week of traveling from Paris to Milan, Venice and Geneva. It doesn't sound like a lot of places, but there's so much I want to say about these places that I don't even know where to start! So I guess I'll start with my first stop, the fashion capital of Italy: Milan.
My hotel was conveniently located at the back of the Duomo (left), where the huge square you see in the movies is located. Unfortunately for us, the front of the Duomo was under construction, so we could only get a decent picture from the back. But the area is literally the heart of Milan and all you really needed to see is there. Next to it is the Galleria Vittorio Emanuele II (center, right), and it is simply a beautiful place, housing Prada, Vuitton. .
. . and the Gucci Cafe, which I simply HAD to have a cup of coffe (or chocolate) at. Turns out it was also a great place to people watch.
A few steps away is the Da Vinci statue (right) and the La Scala opera house (left). Honestly though, we were a bit disappointed by it since we didn't even realised we saw it in passing until we consulted the guide book! But then again, we also didn't know that one can go into the museum there and take a sneak peak at the interior, so we might have missed out there.
Next there is the Castello Sforzesco Fort(left), which for one of the most "well-loved symbols of Milan" is really not that scenic. Then there is this arch (right)located behind it, but we don't really know what it represents. Another place to visit is the Santa Marie Delle Grazie, where the Last Supper painting is located. Unfortunately we didn't get to see it because you had to reserve 2 weeks in advance! Crazy right?
Then of course there is the shopping. Unlike the piazza of shopping I'd imagined, turns out it is four small streets of shopping that forms a rectangle called the Quadrilatero della Moda according to my guide book. The streets (top left)are actually very quaint and cool. And how gorgeous is that white Dolce and Gabanna trench(top right)? We also passed the Armani building, which is a huge complex that has Armani everything (lower left). Oh and the shop on the lower right corner is located at the Galleria and thats where I got my new absolutely adorable grey/black winter shorts!
Besides the usual Prada and Gucci store which is everywhere in Milan, another must stop store is the Viktor & Rolf store. While their collection at H&M was disappointing, their store awesome. True to my summer colleague's word, the whole store was upside down, from the ceiling, chandelier to the front door.

And no, I did not accidentally flipped the photos upside in photoshop.

Other random things I saw in Milan, are stores for fashionable children (upper left)-how cute is that? Lots of delicious gelato stores (upper right). The Ferrari store (lower left)where if you buy over 30 euros you get to get into this car and do a virtual drive around the tracks. And this cool looking Aston Martin car opposite the Gucci store- even if it is in green.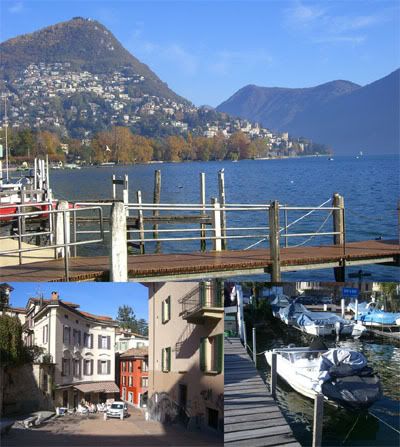 During my three days in Milan, I also took a day trip to the Lugano, a little village in Switzerland just 1 hour away from Milan by train. It is EXACTLY what I'd imagined a small European town to look like: quaint, beautiful and gorgeous. Luckily for us, the weather was fabulous that day too, so we took lots and lots of photos and even hired a speed boat (lower right) and drove around the lake for half a hour. Definitely one of the highlights of my entire trip.
Stay tune next week for acounts from Venice and Geneva. Ciao!